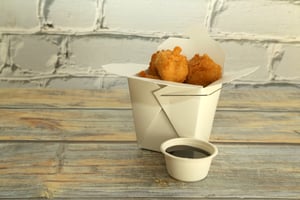 Americans are a snack-happy bunch—and as the market research firm NPD Group reports, they're growing appetite for grazing on snacks is eating into the traditional pattern of three large meals a day.1 And the sheer volume of snacks consumed in the U.S. is surging. Consumers munched on an estimated 386 billion ready-to-eat foods last year, up from 356.billion in 2011.1
As David Portalatin, NPD Group's national food and beverage analyst, pointed out: "There's a changed definition of what a meal is. Today, I might have a piece of fruit and trail mix and call that lunch. In the past, we would have thought of that as exclusively snacks."1
Now that the line between snacking and meals has blurred beyond recognition, the decision-making process of what to munch on—and when—seems to be shifting. Portalatin cites breakfast sandwiches as a case in point: they're often eaten as snacks, despite their association with the breakfast daypart.1 McDonald's all-day breakfast menu is a milestone in the upending of dayparts in favor of anytime snacking.
In a competitive environment increasingly long on food options and short on time and money, snacks give consumers taste-testing opportunities that allow them to sample items without commitment or waste. And as snacks shift from indulgent treats to better-for-you options that reflect the wellness foodservice trend, it becomes possible to graze on them guilt-free.
"Today, they're part of an overall wellness regimen, where we may want to have mini-meals across the day," Portalatin explained.1
Menu Innovation Must-Haves: Wellness, Portability, Uniqueness
NPD Group research reveals that consumption of "be-well" snack foods (whole food or a processed food made of natural ingredients) is expected to continue to grow over the next 5 years.2 Young millennials are the fastest-growing cohort, with a forecasted growth rate of 5% for 2023 vs. 2018.2 Survey results show that the top snack foods for "be well" occasions are fruit (55%), refrigerated yogurt (14%), nuts and seeds (8%), energy/protein, granola and diet bars (6%), and snack cheese and cottage cheese cups (3%).2
The need for portability has picked up as consumers seek munchable items such as single-serve snacks that they can consume as fuel for their busy lives and enjoy on the go.3 Unique experiences from sensory attributes such as texture, heat and aromatics have also emerged as determining factors in the consumer's snack purchase decisions.3 Uncommon and unusual flavor mashups are expected to continue to feed the millennial need for taste adventures.3
Rising to the Challenge of a Higher Check Average
Seismic shifts disrupting foodservice, including the aging population, decline in annual meal occasions, fewer women entering the workforce, and more meals eaten at home, are compelling operators and manufacturers to find ways to "win the moment" when consumers are deciding "what to eat, when to eat, where to eat, who is going to prepare it, and how it will be prepared."4
With nearly half of dinners bought at a restaurant eaten at home and more and more meals a blend of made-at-home food and ready-to-eat items from a foodservice operation, NPD Group forecasts that blended meals will grow over the next five years.4
For fresh ideas on how to influence the consumer's decision-making process during a time of shifting needs and expectations, reach out to us anytime. Our chefs can custom-design culinary concepts to help feed your need for more sales and better margins.
1 Meyer, Zlati, "Do you love snacks? You're not alone. Here's why you eat more of them all day long," USA Today (Feb. 4, 2019) Retrieved from https://www.usatoday.com/story/money/2019/02/04/snacks-popular-now-because-health-trends-convenience-new-tastes/2704465002/
2 NPD Group, The Future Is Bright For Snack Foods as Permissible, Portable and Beneficial Eating Solutions (Jan 16, 2019). Retrieved from https://www.npd.com/wps/portal/npd/us/news/press-releases/2019/the-future-is-bright-for-snack-foods-as-permissible-portable-and-beneficial-eating-solutions/
3 Schoeten, Rebekah, "The Future of Snacking: Wellness, portability, and unique experiences," Food Business News (Feb. 13, 2019). Retrieved from https://www.foodbusinessnews.net/articles/13307-the-future-of-snacking-wellness-portability-and-unique-experiences
4 Portalatin, David, Winning The Moment, NPD.com (June 12, 2019). Retrieved from https://www.npd.com/wps/portal/npd/us/blog/2019/winning-the-moment/