Posted in Trends on August 23, 2022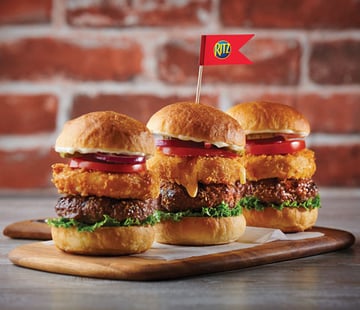 Limited-time offers are a great way to jumpstart sales with signature items that hit the market's sweet spot. But are today's consumers hungry for the new or the tried-and-true? Novelty and fresh twists on old favorites are defining characteristics of limited-time offers, but a balanced approach may be the recipe for success, especially when it comes to seasonal menus.
Pumpkin spice is the quintessential example of a seasonal flavor that finds its way into an ever-expanding range of menu items, from beverages to baked goods and beyond. But there's also a feast of favorites that remain the same and retain their popularity as consumers hanker for their return.
"Not gonna lie, I kinda love the McRib," writes Renee Lee Wege, senior publications manager for the market research firm Datassential.1 "I don't go so far as to check the trackers on when it's going to be back or anything, but I usually get it when it's available. I also LOVED McDonald's chicken tenders and wish they'd bring those back. Other LTO favorites include Starbucks' Smoked Butterscotch Latte and honey lattes at Peet's."1
Datassential research reveals that the last LTO purchased by 63% of consumers surveyed was an impulse buy.1 Bringing back top-selling LTOs after building up anticipation of their return is one way foodservice operators can harness that impulse into repeat sales, without having to reinvent the wheel.
"One pretty easy way to change up the menu without overtaxing operators or your product development team is to bring back items that did well in the past," reports Brett Thorn of Nation's Restaurant News. "That's what KFC is doing with its mac & cheese bowl, what Potbelly is doing with its Gyro Flat and Bartaco is doing with its lobster taco and summertime cocktails. Native Foods is bringing back its popular Munchwrap Supreme, but the vegan restaurant is adding a bunch of brand new items, too."2
The Meat of the Matter: Consumers Flip for Burger LTOs
As a summer grilling staple and the most often-ordered food LTO,1 burgers are a meaty way for foodservice operators to satisfy their hunger for LTO sales—and their versatility makes them easily adaptable for a mouthwatering mix of new and tried-and-true concepts. Burgers lend themselves to an endless array of toppings, making them a go-to for foodservice operators looking to balance flavor innovation with reliable appeal and proven performance.
Datassential cites the Krunch Burger from Glory Days Grill as the top performer in its SCORES database "due to broad appeal as well as strong uniqueness."1 A combination of the chain's award-winning chargrilled steakburger with Homerun Burger Sauce, melted sharp white American cheese, and house-made chips served on a brioche bun, the item scored a 92 based on purchase intent, uniqueness and draw.1
The Bacon Beast Burger from Carl's Jr. also sizzled with a score of 89 and designated a "volume driver" on the strength of "interest driven by product appeal and/or price."1 The 3.5-ounce burger on a seeded bun boasts a bevy of toppings, including tomato, lettuce, pickle, yellow onion, mayo, American cheese, four strips of applewood-smoked bacon and special sauce.1
Right Bites: Snacks and LTOs Converge as Eating Patterns Change
While burgers as typically the main building block for a meal, LTOs may be taking on a new life as snacks that can be enjoyed as quick bites on the go rather than full sit-down meals. As snacking becomes more prevalent as a meal replacement, it opens up opportunities for operators to introduce LTO concepts like McDonald's Spicy Chicken McNuggets that infuse menu favorites with fresh flavor profiles. As a shareable item, the McNuggets are ideal for group settings like watching sports with friends or family movie night.
"Snacking is much more than a source of nutrition and indulgence; it also is a source of social connection and inspiration for broadened experiences," said Dirk Van de Put, chairman and CEO of Mondelēz International. "Notably, consumers continue to prefer snacking occasions throughout the day over traditional mealtime—as this growing behavior, accelerated by the ongoing pandemic, increasingly becomes part of daily life."3
The acclaimed chefs at Mondelēz Foodservice are adept at creating a wide variety of LTOs that build on menu staples to help balance culinary ingenuity with proven appeal. Browse our Culinary Center, including our Fried Cheese Patties made with RITZ Crackers, for a taste of how we can help you boost sales with standout LTOs. What to discuss LTO concepts customized to help meet your foodservice operations' particular needs? Reach out below for a prompt reply.
1 Foodbytes, A Look at Limited-Time Offers, Datassential, 2022
2 Thorn, Brett, "Menu Tracker: New items from KFC, Boston Market and California Pizza Kitchen," Nation's Restaurant News, July 15, 2022
3 Mondelēz International Foodservice, "Mondelēz International Release Third Annual State of Snacking™Report Highlighting Emerging Trends and Expanding Role Snacking Plays for Consumers," January 19, 2022