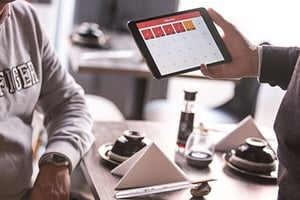 It can seem a tall order for foodservice operators to thrive these days. Innovate or evaporate is a suitable mantra, given tight margins, rising labor costs and insistent consumer demand for speed, convenience and exciting new flavor experiences.
A prime example of the shifting foodservice landscape, the rise of subscription meal kits has delivered a blow to the bottom line, siphoning off $5 billion in market share1 and encouraging consumers to eat in and bypass takeout. And in-store meal kit sales from traditional retailers are surging too, jumping 26.5% last year to $154.6 million.2 Spending on meal kits is picking up speed at a rate 3x faster than other channels.2
While restaurant stocks saw an average increase of 3.5% in the last few months of 2017, "higher labor costs and a changing consumer could dampen any growth in the coming months," reported Restaurant Business.4 "And some of the same issues that kept sales down over the past two years, like concerns about industry oversupply and competition from grocers, will remain a factor."3
In such a hyper-competitive environment, it's no wonder that more than a quarter of restaurants fizzle out within a year.4 Delivery has provided a boost, posting 20% growth and accounting for 1.75 billion orders and $16.9 billion in sales over a five-year period.5 But while third-party delivery services like GrubHub and Postmates represent 13% of delivery traffic, they can also eat into profits with as much as 30% commission.5
Opportunity Knocks with Delivery-Only Deals
Panera is making the naysayers eat their words by bucking the third-party delivery trend with its own in-house service. Now available in 43 states through the fast casual chain's app or website, the program features a fleet of about 13,000 drivers and employees—up from 10,000 since the end of 2017.6
Renowned for its robust and ever-growing menu of handmade items, Panera added special sizzle to summer this year with a delivery-only limited-time offer Bacon Mac & Cheese dish.
"Panera delivery gives our guests the option of enjoying our craveable indulgences right in their own home or workplace," CEO Blaine Hurst explained.6 "Mac & Cheese is a classic at Panera—an iconic menu item people continue to celebrate. We think bacon makes it even better."6 And the fact that an LTO is only available through delivery makes it all the more tempting.
Foodservice Operators Dig into Data for Menu Design
Being informed about the customer's expectations and demands can make or break a profit margin.
Harnessing data to drive menu innovation enables forward-thinking foodservice operations to tailor offers to the customer's preferences. Digital menus and self-order kiosks can be used to collect data for more personalized dining experiences. They can also be equipped with infrared eye-tracking software which can follow the customer's "gaze path" to determine sweet spots and weak points in menu design and selection.7
What's more, because mobile apps track order history, they can be leveraged to customize add-ons and upsells at point of sale based on consumer behavior. More mobile-mined data could mean more informed menu design, a better ordering experience and a higher check average, both in store and online.
As Nation's Restaurant News reported,8 TGI Fridays is using artificial intelligence to gather data from orders placed through the chain's smartphone app, website and a variety of social media platforms. The data is used to develop personalized offers based on the customer's ordering patterns.
Understanding strengths and weakness may be the key to successful menu innovation. It's prudent to make sure additions and enhancements reinforce, rather risk, what's already working. As Juan Martinez, principal and cofounder of foodservice brand consulting firm Profitality, wrote in Fast Casual, "Maximize the new offering without hurting the baseline business, in order to drive a higher level of profits and 'unit economics.'"9
To learn how our trusted brands, industry insights and culinary expertise can help you elevate your menu, reach out below.
1 Meal Kit Market Delivers Sales of $5 Billion--and Disrupts Industry, July 17, 2017.
2 Nielsen, Meal Kit Mania: Innovation for Foodies, March 5, 2018.
3 Maze, Jonathan, "2018 could be a better year for restaurants," Restaurant Business, Jan. 4, 2018.
4 Ungerleider, Neal, "Hold The Storefront: How Delivery-Only 'Ghost' Restaurants Are Changing Takeout," Fast Company, Jan. 20, 2017,
5 Weisberg, Lori, "Why restaurants are jumping on the food delivery bandwagon," Los Angeles Times, Apr. 11, 2018.
6 Luna, Nancy, "Panera Bread debuts delivery-only LTO," Nation's Restaurant News, June 6, 2018.
7 Embed Digital, "Data-driven menu psychology (powered by digital menus)," Restaurant Business Online, June 6, 2018.
8 Luna, Nancy, "Tech Tracker: TGI Fridays taps AI tech to build guest engagement," Nation's Restaurant News, June 18, 2018.
9 Martinez, Juan, "How efficient is your methodology for menu innovation?" Fast Casual, June 26, 2017.