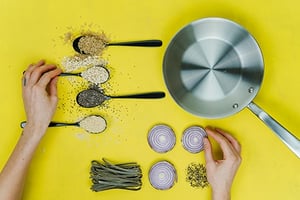 Meal kits are elbowing their way to a place at the big-box table as major food retailers strive to satisfy the consumer's hunger for convenient meal solutions.
As reported in our last post on the subject, it wasn't that long ago that meal kit sales broke the $1 billion mark. Now a $2.2 billion business with an expected annual growth rate of 25-30% over the next half-decade,1 meal kits continue to deliver big business for subscription services like Blue Apron and Plated. And, as Albertson's $200 million purchase of Plated shows, more traditional segments of the food and beverage industry want in.
The grocery chain has announced plans to roll out Plated's meal kits to hundreds of stores by the end of 2018.2 The meal kits will be available for in-store pickup and delivery through Instacart, an online order platform for groceries.2 Albertson's acquisition of a meal kit startup broke new ground,2 but other big box grocers are exploring meal kit options as well. Kroger is also sinking its teeth into the meal kit market, while Blue Apron announced in March its own plan to start appearing on store shelves.2
With one in four American adults having purchased a meal kit and 70% of them still buying them post-trial period, meal kit mania continues to pick up speed, serving up stats to whet the appetite of grocery and foodservice operations for more sales.1
National Grocery Chains Set to Bag Big Meal Kit Sales
While there may be a lingering perception that the phenomenon is limited to the East and West coast hubs where American food trends tend to take flight, 27% of Southerners and 22% of Midwesterners surveyed purchased meal kits over a 12-month period.1 Consumers with earnings in excess of $70,000 and millennial men—two coveted consumer demographics—are among the most enthusiastic devotees of meal kits.1
With that kind of market reach and broad-based consumer appeal, it's no wonder big box food retailers are seeing big dollars left on the table as meal kits continue the upward arc of their growth. Now grocery juggernaut Walmart has joined the fray with the rollout of its own line of meals to more than 2,000 of its stores this year.3
In contrast to the one-size-fits-all model common among meal kit delivery services, the megastore's meal kits are divided by categories based on cooking time and skill level and will be available in stores, with no subscription required.3 Walmart has already served a slice of its meal kit inventory in the deli section at 250 locations.3
As part of its heavy investment in its online grocery business, Walmart has aligned its subscription retailer Sam's Club with Instacart to deliver food in several states.4 The strategy seems in response to Amazon's inroads into marketing meal kits on its site, as well as its use of its two-hour Prime delivery service to deliver groceries from Whole Foods.4
Meal Kit Mania Delivers Mixed Possibilities for Foodservice Operators
The rise of meal kits and their integration into national grocery chains poses opportunities and challenges for foodservice operators. Rob Wilson, managing director and partner at L.E.K. Consulting, pointed out: "The main problem is the meal kit industry capitalizes upon a number of unmet consumer needs for convenience and trying new recipes and doing that at home, so the industry won't go away."4
Survey results from TD Bank found that a noteworthy cross-section of general managers, owners and franchisees plans to step up to the plate with increased investment in convenience-oriented foodservice solutions like mobile ordering.4 Thirty-one percent of women and twenty-three percent of male owners said they plan to partner with an online delivery service such as GrubHub or Seamless.4
Meal kits feed into the need for optimal convenience, combining pre-measured ingredients, simple instructions and (in many cases) home delivery. According to Mark Wasilefsky, TD Bank's head of the restaurant franchise financing group, large franchisors are increasingly experimenting with meal kits in response to demand from younger consumers.4 "Millennials are all about experience," he said. "They are looking for this. They are also looking for convenience."4
Trusted brand name ingredients and innovative recipes can only enhance the appeal of meal kits—or any menu, for that matter. Be sure to check out our recipe center for ideas, and feel free to deliver a few thoughts on on the meal kit feeding frenzy below.