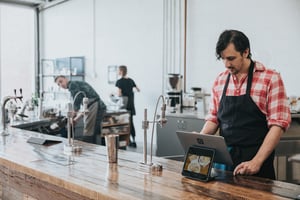 The promise and potential of technology have whetted the appetite of foodservice operators for exponentially greater efficiency and higher margins. In fact, tech has triggered a feeding frenzy of interest as industry professionals strive to keep pace with the latest advances and innovations.
According to Nation's Restaurant News, technology news tied to delivery and automation were its most-read stories of 2019.1 Major companies and top brands, from Domino's to DoorDash, grabbed headlines with trailblazing tech agendas.
Domino's testing of self-driving delivery vehicles and Uber's launch of drone delivery drove the highest readership of any of NRN's Test Tracker columns last year.2 Pizza Hut delivered innovation of its own, teaming up with FedEx Corp to test the SameDay Bot, a self-driving cart that travels on sidewalks, roads and steps. In addition, McDonald's and fine-dining venue Juniper & Ivy tapped Uber to test drone drops.
McDonald's acquisition of Dynamic Yield, a machine-learning company that personalizes customer experiences with artificial intelligence, and Apprente, an Alexa-style voice-ordering startup, underscored the burger giant's commitment to tech innovation. The iconic chain is leveraging automation to speed up operations and simplify serving customers.
Opportunity knocks to lower operational costs and increase margins with ghost kitchens, and DoorDash made inroads into the trend with its own shared kitchen space in Silicon Valley, DoorDash kitchens. A local franchisee of Chick-fil-A is renting a space there to deliver the chicken chain's phenomenally successful chicken sandwich, bypassing the need for a sit-down restaurant in the region's astronomically expensive real estate market.
Upping the Game: Going Digital and Sustainable for a Higher Check Average
Chipotle made its tech ambitions loud and clear with its AI-powered automated phone system, which was introduced to 1,800 stores in a partial rollout. Described as "human-backed machine learning" by Nicole West, the fast-casual chain's president of digital strategy and product, the brand soon expanded the rollout to all 2,500 of its restaurants.3 The voice bots relieve employees of the burden of taking orders over the phone and free them up to focus on providing the best possible customer service in the restaurants.
To accelerate the growth of its $1 billion digital business,4 Chipotle is testing prototype stores with an array of features to enhance the end-to-end digital experience, from pick-up shelves near the front entrance to a walk-up window. Retrofits and new stores in Chicago, Cincinnati, Phoenix, Tempe, Newport Beach and San Diego also reflect the company's commitment to sustainability and local sourcing. As Tabassum Zalotrawala, the Mexican food chain's chief development officer explained: "Our eco-friendly, natural aesthetic and locally sourced approach to this design builds on our strong brand values and mission of cultivating a better world."4
As reported in Foodservice Director, a leading source of news and information for the noncommercial segment, eco-friendly packaging is a key trend at the forefront of technological innovation across the industry.5 According to the National Restaurant Association's What's Hot Culinary Forecast, eco-friendly packaging had the highest ranking of any item surveyed, due to increasing consumer demand for sustainable alternatives and the rise of local and state regulations.5 Expect commercial and non-commercial foodservice operations alike to adopt more eco-friendly packaging in 2020.
Tap the culinary expertise of the chefs at Mondelēz International Foodservice to elevate your menu and help your foodservice operation make the most of the latest tech innovations. Connect with us below to learn how they can tailor menu solutions for your operation's unique needs.
1 Luna, Nancy, "Top 9 technology, delivery stories of 2019," Nation's Restaurant News, Dec. 20, 2019
2 Luna, Nancy, slide 2
3 Luna, Nancy, slide 8
4 Luna, Nancy, "Chipotle Mexican Grill testing prototype stores geared for $1 billion digital business," Nation's Restaurant News, Dec. 19, 2019
5 Lalley, Heather, "Eco-conscious packaging to top culinary trends in 2020," Foodservice Director, Jan. 14, 2020