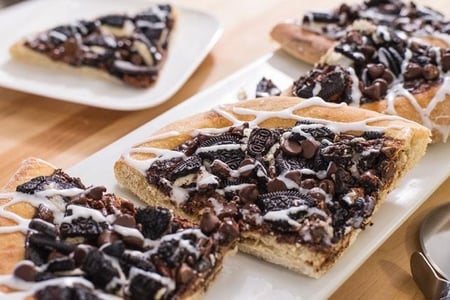 Let's face it: Snack trends may come and go, but there's one constant foodservice operators can rely on, and that's the pivotal importance of taste and flavor in driving the consumer's snack choices.
Menu innovation is a must for foodservice operators who want to encourage a higher check average. But in the vast universe of snack and dessert varieties, no matter how nutritious or unusual an item may be, if it's not delicious enough to stand apart, consumers are unlikely to gravitate towards it.
Flavor finds favor with consumers. Even well-known brands and wellness-oriented snacks and desserts can go hungry for sales without flavor profiles that resonate with consumers and keep them coming back for more.
Consumers may clamor for more wellness-oriented snack options, but they prioritize taste and flavor over nutrition when weighing purchase options, as shown by the results of a survey conducted by the market research firm Mintel.1 74% of consumers surveyed agree that flavor is more important than brand, while 51% consider taste more important than nutritiousness. What's more, 62% snack to satisfy a hankering.
No wonder Datassential, another prominent market research firm, found that traditional treats, including cake, ice cream, cheesecake and cookies still tend to top menus as the most popular dessert items.2 More consumers are partaking in desserts as a snack between meals and turning to frozen treats and cookies in particular to satisfy a yearning for something sweet.2
Smart Cookies Help Boost Business
Cookies not only remain a perennial snacking staple; they have grown on restaurant menus across all segments and are now offered at 70% of fast-casual restaurants, 50% of quick service restaurants, 22% of casual dining restaurants and 15% of fine dining restaurants in the United States.2
Restaurants now feature more dessert options, averaging 8 to 13 per menu.2 Overall, 9 in 10 menus in the U.S. now include dessert, with half of restaurant operations offering grab-and-go favorites such as cake pops.2 Rich, satisfying hybrid desserts such as donut-croissant combos, mashups of baked goods and ice cream, and OREO cookie milkshakes are also popular.2
"I think we're seeing a return to indulgent desserts, with butter and cream coming back," Patti Dellamonica-Bauler, pastry chef at One Market restaurant in San Francisco, California, told OpenTable. "Ice cream has really enjoyed a renaissance in the last few years. I see more 'over the top' sundaes on menus and I'm personally having fun reinterpreting the ice cream bar."3
Small Sizes Are a Big Deal
Mini is also mighty, satisfying the consumer's yearning for flavor and helping with portion control at the same time. Mini desserts offer the grab-and-go portability that appeals to busy millennials while meeting consumer demand for smaller serving sizes that offer the same satisfying taste enjoyed in larger formats.
Minis are easy for consumers to enjoy in one sitting, reducing food waste and helping consumers regulate their calorie intake. To help maximize the bottom line, it may make sense to take into account the customer's waistline and offer the portable convenience and portion control of mini versions of the branded snack and dessert items they favor.
Do you think foodservice operators get their just desserts when they recognize taste as the ultimate driver of consumer food choices? Any plans to help sweeten sales with richer, more flavorful dessert offerings?