Foodservice is nourished by innovation and investment, so it's no surprise that technology has whetted the appetite of investors to finance the industry's digital revolution. Weaned on the speed and convenience of digital technology, young consumers have an insistent yearning for the instant gratification of foodservice at their fingertips—and savvy investors are taking note.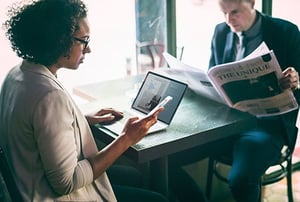 As the market analysis and advisory firm NPD Group reported, while foodservice traffic has crawled along between a 1% and 0% gain for several years, restaurant visits paid by mobile app boomed by 50% during 2017.1 It seems that despite what some may consider a slow period, technological innovation is the revenue engine moving the business forward at a rapid clip.
Data from the NPD Group may help rev investors up to feed the industry more infusions of venture capital. Driven in part by special digital offers and coupons, 98% of mobile-pay traffic flows to quick service restaurants, where growing consumer demand for a combination of convenience, value and quality is met.1
That said, roadblocks remain, slowing down digital usage by foodservice consumers and the tech-driven revenue operators tap into. Cash remains the preferred method of payment in two out of five restaurants surveyed.1 Top barriers include concerns about technical glitches and inadequate security for credit card transactions.1 Other key objections: a preference for placing orders with a live person and a perception that digital ordering is not a clear necessity.1
But given the right well-funded tech innovations, it stands to reason that these roadblocks could be removed, clearing the way for restaurant operations to drive digital engagement and sales to new heights.
Foodservice Investors Are Hot on Toast
Toast, a management software and hardware provider for restaurants, has established itself as a go-to source for solutions that streamline foodservice operations and make payment processing seamless. From front-of-house to back-of-house, online orders to loyalty programs,Toast provides end-to-end operational integration and efficiency. Real-time data across multiple locations allows operators to identify weak spots, capitalize on strong suits, and make adjustments as needed.
Once known primarily for its point-of-sale platform, Toast is broadening its services to encompass a complete management system that helps restaurants operate more efficiently and cost-effectively.
Now we can expect Toast to pop up in more and more small to mid-size restaurant operations (its bread and butter), thanks to a fresh $115 million round of funding that boosts the company's value to $1.4 billion.2
Led by T. Rowe Price, the infusion of venture capital includes contributions from Tiger Global Management and prior Toast investors Bessemer, Generation Investment Management and Lead Edge Capital.3 According to Venture Beat, the $1.4 billion valuation places the Boston-based company in the elite ranks of the "unicorn club" of billion-dollar startups.3
Over the course of 2017, Toast's revenues skyrocketed by 150% and its headcount swelled to more than 1,000 throughout the U.S., attracting the attention of investors.3 "Our investment in Toast reflects our belief in the firm's ability to become much larger over time," said Henry Ellenbogen, portfolio manager of T. Rowe Price New Horizons Fund.3
Competition for Toast Keeps Popping Up
While Toast may be top of mind, the field of restaurant management systems is a feeding frenzy for comparable companies. Given the fact that in the U.S. alone the restaurant business is an $800 billion industry that employs 15 million people,2 the need for cost-effective management solutions is huge, driving competition from other key players, including:
Lightspeed POS provides point of sale, accounting, inventory management, purchasing analytics, and other related services to brick-and-mortar retailers, restaurants and online businesses, raised $166 million last year.

4

As it gears up for a possible IPO by mid-2019, according to CEO and Founder Dax Dasilva,

4

the company is using the investment to develop its own payment processing infrastructure. "We want to monetise that area, and that will be a huge story for Lightspeed going forward," Dasilva told TechCrunch.4

TouchBistro raised $70 million in series D financing this year to support its next-generation restaurant operating system, new payment processing platforms and market expansion.5 Financing is earmarked in part to extend its app throughout large restaurant chains in the U.S. and Latin America.

5

Used by upwards of 12,000 restaurants in more than 100 countries, the company's ePOS solutions process over $6 billion annually and streamline everything from order taking and menu management to accounting, reporting, staff scheduling and more.5


Square, Inc. acquired certain assets of the better-for-you catering platform Zesty. The acquisition will enable Caviar, Square's food-ordering platform, to expand its corporate ordering business with leading-edge menu planning, order management, catering logistics and customizable wellness-oriented order options. According to Gokul Rajaram, Caviar Lead at Square, "Expanding our corporate catering product with Zesty enables us to offer our restaurant partners another way to boost sales through higher-margin, large-format catering orders."6
Whatever your logistics and management challenges may be, it pays to have a vast reserve of market resources and insights on hand. From meteoric startups to longtime standard bearers, our brands have helped foodservice operations across segments thrive. Tap our expertise to connect with a greater share of the tech-driven millennial snack market.
1 Schouten, Rebekah, "Technology a 'bright spot' in the restaurant industry," Food Business News, Mar. 13, 2018
2 Lynley, Matthew, Toast raises $115M at a $1.4B valuation to create a one-stop management tool for restaurants, TechCrunch, Jul. 10, 2018
3 Sawers, Paul, Point-of-sale platform Toast raises $115 million at $1.4 billion valuation, Venture Beat, Jul. 10, 2018
4 Lunden, Ingrid, Commerce specialist Lightspeed POS raises $166M as it preps for an IPO in 2019, TechCrunch, Oct. 17, 2017
5 George-Cosh, David, TouchBistro nears OMERS-led investment valuing startup at $200M, Bloomberg, June 14, 2018
6 Square, Inc., Square Acquires Zesty to Expand Caviar's Corporate Catering Business, Apr. 19, 2018