Posted in Millennials on May 8, 2018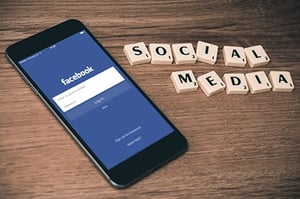 There's a lot to love when it comes to social media. Today's consumers certainly seem to think so. According to data from Mintel, a leading provider of market research, insight and analysis, 93% of Americans are social media users.1
In light of social media–fueled phenoms like avocado toast, unicorn coffee concoctions and over-the-top milkshakes, Mintel has identified the need to feed younger consumers' insatiable appetite for social-worthy fare as one of the top foodservice trends to watch in 2018.2 With 63% of millennials agreeing that they enjoy snapping pictures of their food,1 social media can serve up a feast of buzz for foodservice operations that are hungry to raise their profile and pique the interest of consumers in an increasingly digital-driven market.
Mintel notes that branded elements tend to get noticed, leading more operators to add them to food and beverages as a way of encouraging snap-happy young consumers to photograph and share them on social media.2 Big brands have a big social footprint, which can help foodservice operators get a leg up on the competition and step up their social outreach. (As of this writing, OREO has 2.4 million Instagram followers, and the Mondelēz International Facebook page has 188,739 followers and 192,382 likes.)
While food-photo fever is primarily propelled by iGeneration members and millennials (classified by Mintel as aged 11-23 and 24-41, respectively2), brand awareness can extend beyond them since traditional media outlets tend to report on viral media trends. Thanks to the impact of this halo effect, consumers may be more likely to pay higher margins for dishes with a higher social media profile.
Social Demand for Discovery Drives Menu Innovation
In addition to being a huge hub for interactions between foodservice influencers, social media \is a rich source of discovery for adventure-minded millennial and iGen consumers. One in four millennials surveyed and two in five iGen survey participants agree that social media broadens their food horizons.3
"Social media has created a new focus toward the concept of being an influencer, whether on a small or large scale, and iGens and Millennials have specifically adopted social media as a part of their daily lives," explained Mintel Foodservice Analyst Diana Kelter. "However, for a core group of consumers, social media serves as a discovery tool versus an outlet to personally engage and post."4
The hankering to discover new culinary experiences and flavor profiles elevates the importance of menu innovation to help drive a higher check average. And, as social media becomes more influential in the foodservice industry, it's likely that consumers will increasingly expect dishes to wow their eyes as well as their taste buds. Before you can "feed the feed" (as Mintel has dubbed the 2018 social trend), it's important to meet expectations for culinary concepts with distinctive flavor and visual appeal to match.
All Together Now: Foodservice Operations Step Up to the Social Plate
On the plate, on premises and on social media, the experience should be worth sharing. "The focus on discovery places more responsibility on foodservice operators and marketers to create an engaging presence across different social media outlets and on-premise," said Kelter.4
While the temptation to tap into the Instagram food frenzy may lead operators to lean toward creating extreme menu items, maturing millennials seem to be striking a balance between quality and wow-driven presentations and formats. A quarter of millennials surveyed would share an extreme menu item on social media compared to 37% of iGen survey participants.5 And 28% of millennials consider fine dining experiences share-worthy.5
Though Instagram lends itself well to sumptuous food photography, it isn't the leading social media outlet across generational cohorts. Facebook leads the pack for millennials, with 77% of those surveyed reporting they visit it at least once a day.6 For iGen members, Instagram edges out Snapchat for the top spot: 59% of their survey sampling visit Instagram daily, versus 58% for Snapchat.6
What do you think is the next big foodservice trend on social media? Any thoughts on tailoring promotions for social consumption? Sharing your thoughts below gets a heart from us.
1 Topper, Amanda, Foodservice Trends 2018, Mintel, 2017, p. 22