Posted in Millennials on October 8, 2019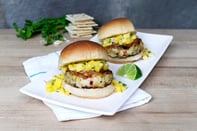 As the local sourcing and farm-to-table frenzy shows, consumers have fallen head over heels for fresh ingredients. "Freshness is a top snack attribute,"1 according to survey results from the research firm Technomic. In fact, 63% of consumers surveyed demand freshness first and foremost.2 Women in particular favor freshness (67%), compared to 59% of men.2
Younger consumers are leading the charge for fresher and better-for-you food options, including fresh fruit and vegetables.3 The market information and business solutions firm NPD Group dubs Gen Z "the all-natural generation" and identifies the generation's preference for freshness as one of its defining eating behaviors.3
What's more, Technomic reports that "ingredients described as fresh, real or made-from-scratch ... are among the top attributes millennials are interested in and willing to pay more for."4 And fresh ingredients are hardly a bust with boomers: those consumers also "gravitate toward items described as fresh and housemade."5
Consumer demand for fresh options is also growing in Asia. The market intelligence agency Mintel found that 34% of Chinese consumers between the ages of 20 and 49 would like to see more fresh food options in convenience stores.6
Meanwhile, back in the U.S., the fresh snacking category (refrigerated protein bars, protein snack packs, bottled smoothies, yogurts, and other products, such as hummus and guacamole) has posted an 8% annual growth rate.7 On the fresh snack front, Mintel has determined that consumers interpret "fresh" as clean label, free of additives/preservatives and usually found in the refrigerated or produce section .7
As part of its commitment to providing a broad portfolio of fresh, better-for-you snack options, Mondelēz International has acquired a majority interest in Perfect Snacks, a maker of refrigerated nutrition bars and bites. The Perfect Snacks product line, which generated $70 million in sales last year,8 includes Perfect Bar protein bars featuring nut butters and a selection of snacks for children.
A Fresh Perspective on Beef for a Higher Check Average
The Golden Arches saw green in a more extreme definition of fresh. To accommodate demand for food prepared fresh and ingredient transparency, McDonald's took the radical step last year of transitioning from frozen to fresh beef—and the switch proved to be a cash cow. Sales of fresh beef quarter-pound burgers soared 30% in the 12-month period ending in June.9
As Marion Gross, the company's chief supply chain officer for North America, explained: "There was a huge transformation that was required," including changes in packaging equipment for suppliers, temperature monitoring systems in distribution trucks, and food safety practices for McDonald's kitchens.9
The transition to fresh beef was one of the "biggest, boldest moves that we've made in a long time," she said.9 In fact, it was the company's most ambitious supply chain shift since the rollout of all-day breakfast in 2015.9
"Our customers are changing at a super-fast pace. As a result, we've had to change, too."9 While franchisees were initially leery of the costs they incur from such a disruptive supply chain change,9 sizzling sales may have made naysayers eat their words.
The burger juggernaut has also committed to shift away from antibiotics in its beef and change to cage-free eggs.9
So how can you tailor menu innovation to leverage the freshness foodservice trend? Try our recipe for Latin-Style Crab Cake Sandwich with PREMIUM Saltines,which are renowned for their fresh flavor varieties and crispy texture. Be sure to browse the many other inventive dishes in our Culinary Center. Reach out below to have our chefs create fresh concepts customized for your foodservice operation's specific needs.
1 Technomic, Snacking Occasion Consumer Trend Repot, 2018, p, 11
2 Technomic, Snacking Occasion Consumer Trend Report, 2018, p,70
3 NPD Group, Guide to Gen Z: Debunking the Myths of Our Youngest Generation, 2019, p.15
4 Technomic, Generational Consumer Trend Report, 2018, p. 10
5 Technomic, Generational Consumer Trend Report, 2018, p. 24
6 Mintel, Global Food & Drink Trends, 2019, p. 32
7 Lockwood, David, 'Fresh' Snacking is on the Rise, Mintel Blog, July 13, 2018
8 Watrous, Monica, "Mondelēz International completes Perfect Snacks deal," Food Business News, July 17, 2019
9 Wiener-Bronner, Danielle, McDonald's started using fresh meat. Here's what happened to sales, CNN, June 24, 2019