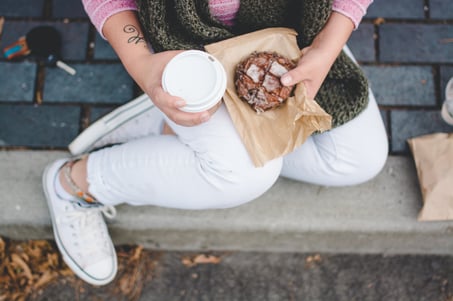 Convenience stores seem made to order for the age of grab-and-go. Having nearly doubled in size over the last three decades, with 154,535 stores in the U.S. at the end of 2016, the industry is a juggernaut of sales revenue and opportunity.1
C-stores have long been prized as a pit stop where consumers can gas up the cars and grab a quick, satisfying, but not exactly nutritious, bite to eat. Speed has always been the hallmark of the c-store experience. The National Association of Convenience Stores estimates that consumers spend an average of three minutes, 33 seconds inside c-stores.2
While c-sores may have a history of living up to their name and scoring high marks for convenience, when it came to fresh, flavorful, better-for-you fare, they were much less likely to make the grade. But the surging market for premium meals and snacks is fueling the shift of c-store foodservice into the fast lane of the fresher-is-better phenomenon.
C-Stores Do Well to Focus on Wellness
As millennial influence grows, with its dual insistence on convenience and quality, consumer demand is dovetailing the need for speed with a preference for fresh, better-for-you options. America's largest demographic group places greater significance than any other generation on how food is grown, manufactured, prepared, served and disposed.3
According to Nielsen's 2017 Fresh & Food Service and Convenience report, millennials represent 33% of c-store traffic.4 That percentage jumps to more than 50% for 7-Eleven, the world's biggest convenience store chain, which boasts 8,900 locations in the U.S. and 61,500 worldwide, with total sales in excess of $89 billion.1
Nielsen's data bears out the rising influence of wellness-oriented foodservice trends. 49% of survey respondents are consciously eating more fruits and vegetables, and 63% are trying to eat better.5 Clean label is driving the highest absolute dollar growth in leading high-volume product categories, such as candy (+11.7%) and ice cream (+26.5%).6
What's more, while total store gains have been modest, rising from $829 billion from April 2016 to $832 billion in April 2017, volume and dollar upswings for fruits, vegetables, bakery and deli-prepared foods underscore the trend toward fresh food in millennial dining.7 Declines in tobacco and fuel sales are also a factor influencing the industry's increasing emphasis on foodservice.1
Freshening Up an Outdated Image
The typical c-store has carved out its piece of the foodservice pie as a great place to quickly fill up your car and your belly, but now an increasingly competitive landscape requires that it become a top-of-mind destination for the kind of high-quality food that consumers increasingly demand.
Pressure from disruptive delivery services like Amazon and Grubhub to maintain their convenience kingpin status is another facror driving c-stores to up their game and get in step with the fresher-is-better foodservice trend.
As a result, fresh-cut fruit, soups, wraps and salad bars are appearing in more and more convenience stores.1 Operators are steadily offering made-to-order sandwiches and salads; some are incorporating eclectic trending ingredients like kale, quinoa and hummus.1 Will the next progression for the c-store segment be to ride the delivery service bandwagon in the great shift from grab-and-go to go-to-consumer?
Quick Fix for Fast-Paced Foodservice Segment
As c-stores go beyond the limits of slushed ices, microwavable burritos and heat-lamped hot dogs to offer fresher and more flavorful fare like chicken curry platters and steak dinners, they blur the distinction between themselves and restaurant operations and grocery stores.
As Jeff Lenard, vice president of strategic industry initiatives with the National Association of Convenience Stores, pointed out: "Convenience stores are more like grocery stores, but now they have more in common with that first aisle you encounter on the right—the fresh aisle."1
C-stores have always been defined by convenience, but now more than ever, with increased competion and sluggish growth, speed is of the essence as they adapt to the fresher-is-better foodservice trend. "The landscape is changing so fast," said 7-Eleven CEO Joe DePinto. "Yes, there's Amazon and there's GrubHub … It's all about immediate consumption. We have to be prepared and ready in ways that our customers want."1

How are you keeping pace with the growing popularity of fresh, better-for-you foodservice options? Find out how we can make made-to-order menu innovation easier and more cost-effective for your foodservice operation.
3 Nielsen, Fresh & Food Service and Convenience, June 2017, p. 27