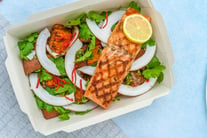 As the consumer appetite for better-for-you and functional foodservice continues to grow, wellness-driven meal delivery can be expected to make more inroads into the market. Jumping on the better-for-you bandwagon seems an essential ingredient in any recipe for off-premises business success.
Survey results from the market research firm Datassential revealed that 78% of consumers would like more functional food and beverage options at restaurants, and even more (80%) want them at retail.1 Given today's busy lifestyles, it may come as no surprise that 57% of survey participants want energy-boosting foods, making energy enhancement the top function of interest.2
What's more, the foodservice industry research and consulting firm Technomic found that while many consumers are making food and beverage choices based on their personal definition of well-being, calories still count—and consumers are counting them.3 Natural, organic, high-in-protein and functional options are among the on-trend favorites, but 66% of consumers surveyed refer to calorie disclosures on menus at least some of the time.3
Delivering on High Expectations for a Higher Check Average
On premises or off, restaurant operations will still need to deliver on the promise of satisfying taste experiences with wellness-driven menu items. As Maia Chang, senior research analyst at Technomic, explained: "The foodservice landscape will become more competitive when it comes to tastier, more innovative healthy menu offerings. This means that more brands will face additional pressure to differentiate through transparency and preparation techniques, as well as brand and sourcing stories."3
Now widely available at retail and catching on in restaurants, meal kits, for which the global information and measurement company Nielsen cited a 36% growth in just under a year,4 are headed in a wellness direction.
"In general, what we are seeing is consumers really want to eat healthy but know they can't always do it," said Meagan Nelson, Nielsen's associate director for fresh growth and strategy.4 With 76% of surveyed shoppers citing a preference for meal kits that are good for their diet,4 consumer demand seems sure to drive development of more wellness-oriented delivery selections.
Meal Kits Serve Up Wellness Menu Innovation
Always known for fresh, pre-portioned ingredients and easy-to-follow recipe instructions, savvy meal delivery companies understand they would do well to follow the wellness foodservice trend and tailor offers to a wide variety of diets, including paleo, gluten-free and vegan.
Among the wellness-friendly meal delivery services to generate buzz was Chef'd, with options like the Green Chili Turkey and Cilantro Rice Bowl from Chris and Heidi Powell of ABC's Extreme Weight Loss. For members of the Tone It Up Nutrition and Bikini Bundle program, Chef'd offered weekly dinner meals to help them reach their nutritional goals. Acquired last July by True Food Innovations, Chef'd shifted focus to selling its chef-prepared kits in grocery stores and other retail outlets.5
Freshly focuses exclusively on high-protein, low-carb meals with zero gluten, refined sugars or hormones, like Three-Bean Ancho Turkey Chili.
And Green Chef is flourishing with meals made with organic ingredients, including Lemon-Dill Broiled Salmon, Herb-Roasted Tempeh, and Quinoa and Spinach Fritters.
Reach out below to learn how the chefs at Mondelēz International Foodservice can help craft custom menu concepts for off- and on-premises business. For a taste of what we offer, check out our recipe for Whole Grain Farro Salad with PREMIUM Saltines.
1 Datassential, Foodbytes: 52 Things We Learned & Experienced at Foodscape 2 , Sept. 2018, p. 11
2 Datassential, Foodbytes: Looking Ahead, Jan. 2019, p. 5
3 Technomic, Consumers increasingly making food choices based on personal definition of health, Nov. 1, 2018
4 Ruggless, Ron, "Meal kits continue to show strength," Nation's Restaurant News, March 7, 2019
5 Maynard, Micheline, "Chef'd Finds A Buyer And Comes to Life, Will Focus on Grocery Stores," Forbes, July 25, 20`18