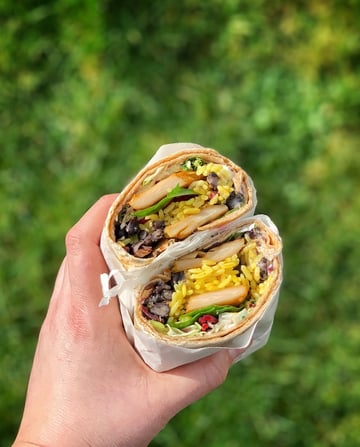 Climate change isn't limited to the planet. Concern over global warming has turned up the heat on foodservice operators to sharpen their focus on sustainability, and the business climate has shifted to recognize that what's good for the planet is good for the bottom line.
According to the market research firm Datassential, over half of consumers surveyed are concerned about the climate, and nearly just as many see a connection between their food choices and the environment.
1
What's more, half of Datassential's survey sampling consider plant-based foods environmentally preferable to meat, poultry and dairy, which have come under scrutiny for their impact on human and ecological health.
1
"Consumers agree about the relationship between climate change and agriculture, and a majority consider their own impact," Datassential reported.1
Taking Plant-Based Burgers to the Next Level
Enter Next Level Burger, a plant-based burger chain that is raising the bar in the increasingly crowded alternative proteins landscape by concentrating on plant-forward sustainability, including 100% compostable to-go containers.
"We're in a position where we are literally every year stopping hundreds of millions of gallons of fresh water from being used unnecessarily," explained Matthew de Gruyter, the chain's co-founder and CEO.2 "And on top of that, we're stopping millions of pounds of carbon emissions every single year from going into the atmosphere. So, when it comes to eco-friendly, when it comes to sustainability, these aren't greenwashed or even the best well-intentioned initiatives—at Next Level, it's like our DNA."2
Next Level ("America's first plant-based burger joint," as de Gruyter dubs it2) menus a broad mix of plant-based alternatives made from organic, non-GMO ingredients without skimping on flavor. Based in Oregon, the nine-location chain has set its sights on quadrupling unit count by end of 2025—an achievable goal, given the brand's $7.2 million sales surge in 2021, which saw an 18% jump from the previous year.2
In keeping with Datassential's findings, de Gruyter sees a growing awareness of the connection between food choices and the environment as a catalyst for the rise in sustainable eating. Consumers are "waking up to the fact that if we want to continue to thrive on this planet, we're gonna have to treat it and ourselves better," he said.2 "And they're waking up to the fact that what they do and the decisions they make count right here, right now."2
Sixty Vines Taps into Keg System Savings
Sixty Vines, another trailblazing restaurant concept with a focus on sustainability, offers a wide variety of vino on tap to make wine discovery and exploration easier, more enjoyable and more eco-friendly. The menu features cuisine inspired by wine country, and the restaurant design boasts an open kitchen and indoor-outdoor format.
The six-unit chain's keg system is the hallmark of Sixty Vines' commitment to sustainability. "When we started off with kegs, it was really more on the mission from sustainability, the fact what we were saving bottles from going into the landfill," explained Jeff Carcara, CEO of Sixty Vines.3 In addition, there are no corks, foil or labels to discard. The system bypasses bottling—a savings that the brand passes along to consumers and makes it possible to offer some glasses of wine for less than $10.
The sustainability of the keg system allows Sixty Vines to pour on the savings. "From the wine makers' equation, there's considerable savings," Carcara said.3 "So we're able to pass that savings along to our guests. We have glasses from some of our taps in the low single digits."3
At Mondelēz Foodservice, we offer culinary ingenuity that can help your foodservice operation reduce waste and elevate the menu with an optimal mix of food options, from scrumptious vegan and vegetarian dishes to inventive better-for-you beverage concepts.
Dig into the feast of ideas and inspiration in our Culinary Center. While you're there, be sure to check out the Inspiration Guides our acclaimed chefs have created and made available to you on the house. Crave custom menu solutions for your operation? Have a question or want to share an insight? Submit your comment below.
1 Datassential, 2022 Plant-Forward Opportunity
2 Estrada, Reyna, "Next Level Burger Is Taking Sustainability to the Next Level," Restaurant Business, August 31, 2022
3 Ruggless, Ron, "Sixty Vines taps—quite literally—into sustainability," Nation's Restaurant News, August 31, 2022