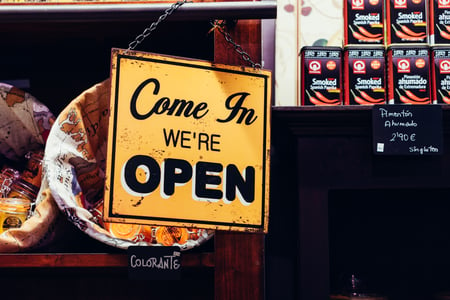 Two ex-Googlers are going big with a new concept that could challenge the small mom-and-pop shops from which it takes its name. Bodega has arrived, and it could help drive the digitized gentrification and automation of foodservice.
Named after the popular moniker for the neighborhood convenience store in New York City, Los Angeles and other cities thoughout the U.S., the concept is the brainchild of Paul McDonald, a 13-year product-management veteran at Google, and fellow Google alum and co-founder Ashwath Rajan.1
Taking the grab-and-go foodservice trend to the next level, Bodega eliminates the need to make a trip to the corner store. Instead, consumers can take what they need from interactive pantry boxes filled with nonperishable snacks, beverages and other goods.
Conveniently placed in gyms, dorms, offices and apartment buildings, the boxes could be a boon to time-strapped millennials hungry for instant gratification. An app opens the boxes, automatically charging consumers for what they take under the invisible eye of camera sensors. The vending machine-like cabinets/mini micro markets are slated to test in over 30 locations in the San Francisco Bay Area.1
From Foodservice Innovation to Controversy Generation
Bodega became a lightning rod of controversy as it came under fire for co-opting the name of a beloved urban institution and community bastion. It was also accused of trying to replace the homey traditional bodega with what some consider a form of tasteless technology and impersonal gentrification.
Even the company's cat logo, a nod to the perennial pet lurking at the traditional bodega, was sometimes seen as a kind of cultural appropriation and insult. The Googlers' concept may seem primed to make on-the-go millennials gaga, but it set off a Twitterstorm of complaints, compelling McDonald and Rajan to offer a public apology to anyone they may have offended.2
Digital Disruption Drives Foodservice Trends
While traditional bodegas are sources of cultural pride for ethnic communities in urban areas, Bodega is buoyed by a wave of technological advances and shifting consumer demands that emphasize speed and convenience. Bodega's app-accessible vending machines may not seem revolutionary, but they follow the micro market and self-service foodservice trend, which continues to surge.
In 2016, micro market product sales soared 41.9% over the previous year to hit a whopping $949.9 million.3 In addition, more than 5,000 new micro markets were installed, exceeding 2015 placements by 21.7%.3 Bodega's five-foot-wide pantry boxes may seem modest in size, but the scope of the possibilities is large.
As McDonald explained: "The vision here is much bigger than the box itself. Eventually, centralized shopping locations won't be necessary, because there will be 100,000 Bodegas spread out, with one always 100 feet away from you."1
A Plateful of Profits on the Table

As a disruptive reimagining of the convenience store, Bodega and other micro market models have a lot to gain. Convenience stores make up 34.1% of all outlets in the U.S., with a 25% higher store count than superettes, supermarkets, supercenters, drug stores and dollar stores combined.4

What's more, convenience stores reached a record $233 billion in in-store sales for 2016—the third consecutive year of more than $10 billion in pretax profits.5 A place at the table of the huge c-store market could lead to a heaping plate of sales.
What do you think of Bodega and its implications for the future of millennial snack marketing and micro markets? Curious about how trusted product assortments help boost sales for vending machines, micro markets and c-stores? Share your thoughts below.