Micro markets are making a major impact on the foodservice industry. Falling into the sweet spot between vending and c-store, micro markets offer the quick convenience of the former and the versatile selection of the latter.
The rapidly growing micro market segment is gaining a foothold at workplaces, healthcare facilities and more. However, there's still opportunity out there to cash in on the booming segment before it hits full saturation. But to understand how to turn a profit at a micro market, you need to know what makes them so unique.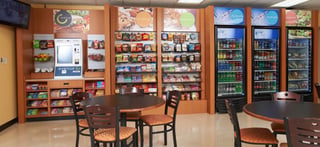 1. Dress for the Day part
Micro markets have a huge advantage when it comes to attracting repeat traffic as consumers often visit multiple times throughout the day to answer their daily snacking desires. Coffee in the morning. Mid-day munch. Afternoon sweet. The key is to tailor offerings to satisfy each need and rotate products in and out that appeal to each specific day part.1
2. Satisfy the Now
Unlike C-stores, which offer multi-packs and full-size chips, micro markets are all about single-serve products designed for immediate enjoyment. Ryan Harrington of Royal Vending sees this as huge advantage for micro markets. He told Automatic Vending that micro markets are able to balance the convenience of grab and go with the instant gratification of snacks consumers can enjoy all to themselves, right away. "We are … providing convenience and … grab and go," says Harrington. "People want something right now, because it's there, and they want to eat it right then."1 Therefore, operators should focus on smaller snackable portions to help sales volume and impulse purchases.
3. Flexibility for Faster Trend Adaptation
We can all probably agree on one thing: C-stores are consistent. No matter where you go, you know what to expect walking in because they often offer the same options. Micro markets' frequent repeat business helps operators spot and react to demands much faster than traditional c-stores and offer a product mix that appeals to their audiences' needs.
Do you customize products to consumer demands? Tell us how you track trends below.
1. Emily Refermant, "View from the Micro Market Trenches," Automatic Vending, May 16, 2016