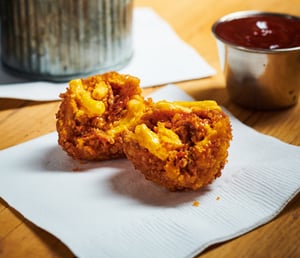 Today's fast-paced lifestyle calls for quick eats, making smaller bites a big deal. With 6 in 10 adults surveyed globally preferring to eat many small meals throughout the day instead of a few large ones,1 snackable menu options have become a must for operators looking to boost business.
According to 53% of adults surveyed, small bites that they can grab on the go are better suited to their lifestyle than traditional meals—a stat that's even higher for millennials (66%).2
While convenience ranks as the top determining factor for snack purchases around the world,2 snacking is also valued as a form of refuge and respite. Seventy-three percent of consumers overall say snacking gives them a break in their busy day, and 77% of millennials see snacking as a time set aside for quiet reflection.2
What's more, today's wellness-conscious consumer is a major fan of snacking, with 66% of people who make wellness a priority opting for many snackable bites instead of a few full meals over the course of the day.2 Seventy-two percent of consumers overall and 79% of millennials are motivated to snack to meet their nutritional needs.3
Now that the average adult eats more snacks than meals on any given day, with younger consumers especially gravitating toward snacks as meal replacements,4 it seems mission-critical for menu innovation to focus on integrating snack selections that meet the needs of time-strapped consumers.
Foodservice Focus Shifts to Small Bites at Big Chains
Given all the research data on the centrality of snacking in modern life, it's no wonder chains are busy introducing more smaller plates and shareable items to their menus. Restaurant-entertainment concept Dave & Buster's plans to test a food cart with five food items and a beer selection in its arcades.
As Brian Jenkins, the chain's CEO, explained: "We will be testing our more accessible food offering in our arcade, which will feature new snackable menu options in select locations. For our core menu offering, we will continue to evaluate enhancements, including testing a more simplified 30-item menu and introduction of several new signature and shareable items."5
The sandwich chain Jimmy John's rolled out a line of smaller, lower-priced Little John sandwiches shortly after Subway introduced its limited-time offer of sliders in September 2019. Subway's slider varieties include cheesesteak, ham and Pepper Jack, turkey and Italian. Jimmy John's sliders combine small-bite convenience with premium quality and a palatable price point. "The combination of high-quality ingredients — all-natural meats, and sliced veggies and fresh-baked bread — paired with a three dollar price point makes the Little John an incredible value," said Jimmy John Chief Marketing Officer John Shea.6
While the sliders seem well-suited as quick meal substitutes, they may also serve as snacks to tide customers over between meals. "Both Subway and Jimmy John's could be trying to tap into Americans' burgeoning habit of between-meal snacking," reports Nation's Restaurant News. "According to consumer research firm The NPD Group, snacks between meals and after dinner accounted for 23 percent of all restaurant traffic in 2018."6
For inspired snackable menu concepts, be sure to browse our recipes for appetizers and snacks in our Culinary Center, including our BBQ Pork Mac & Cheese Bites Made with RITZ Crackers.
Contact us to learn how the expert chefs at Mondelēz International Foodservice can help you maximize your profit margins with big ideas for small bites.
1 Mondelēz International and The Harris Poll, The State of Snacking: 2019 Global Consumer Snacking Trends Study, p. 7
2 Mondelēz International and The Harris Poll, p. 8
3 Mondelēz International and The Harris Poll, p. 14
4 Mondelēz International and The Harris Poll, p. 5
5 Ruggless, Ron, "Dave & Buster's tests 'snackable menu options,' says CEO Brian Jenkins," Nation's Restaurant News, Dec. 11, 2019
6 Thorn, Bret, "Jimmy John's launches smaller sandwich," Nation's Restaurant News, Oct. 8, 2019