Posted in Restaurant on July 18, 2023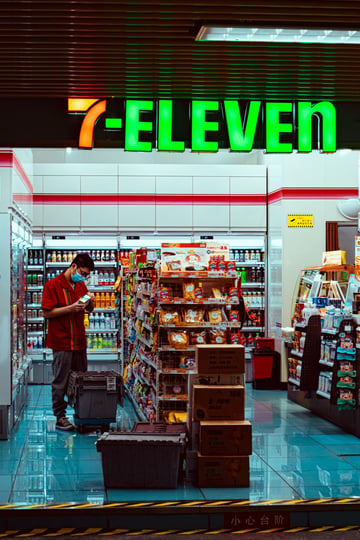 Convenience stores are digging into on-site restaurant sales and biting off more foodservice market share with inroads into the fast casual segment.
Forty-eight percent of convenience stores now offer dine-in seating, and 38% feature outdoor dining areas, reports the 2023 Convenience Store News Foodservice Study.1 What's more, 8% plan to add outdoor seating in the near future, and another 8% say that this year they will integrate an indoor dining space.1
According to the 2022 State of the Industry from The National Association of Convenience Stores, foodservice at c-stores has been growing steadily. The report found that in 2021 foodservice feasted on 22.5% of in-store sales—a 16.8% jump from 2011.2 Foodservice now serves up 35.5% of gross in-store profits, compared with 29.2% in 2011.2
TravelCenters for America, a full-service truck stop and travel center company, has created a new restaurant concept dubbed Fork & Compass to capitalize on the boom in c-store foodservice. Located in the Petro Stopping Center in Perrysburg, Ohio, "Fork & Compass is a roadside reprieve where great food is matched with great service," according to the TravelCenters website.3
With a robust menu covering breakfast, lunch and dinner and offering a large selection of snackable items—there's even a cheesecake from The Cheesecake Factory—Fork & Compass points to a new direction for convenience stores: a full-service restaurant integration.
Other examples of c-store chains linking up with restaurants:2
In April, Sunshine Gasoline Distributors opened a co-branded Taco Del Mar and Quiznos in one of its Florida c-stores through a partnership with Rego Restaurant Group—and it plans to roll out at least 13 co-branded restaurants at other c-store locations throughout the Sunshine State.

Love's Travel Stops is going the extra mile to expand its franchise development agreement with Bojangles and build 40 new restaurants inside locations across four states.

Cumberland Farms is grabbing a slice of the restaurant pie with its second Ria's Pizzeria—and more to come.

7-Eleven is growing its Evolution Store concept nationally, with in-store restaurants including Parlor Pizza and Raise the Roost Chicken and Biscuits.
While a growing number of c-stores are opting for in-store restaurants, others are simply expanding their foodservice offers through menu innovation and customization. With 120 locations in Ohio and West Virginia, the Duchess chain has doubled down on its proprietary foodservice segment to drive double-digit growth.4
"We recognized that we could do a better job at telling customers our freshness story," Duchess Director of Marketing Nathan Arnold explained.4 "For fiscal year 2023, we are posting more videos on how our products are made in our on-site kitchens to social media, advertising and on the TV screens we have in many of our stores."4
At Mondelēz Foodservice, our acclaimed chefs are adept at optimizing menu mixes with our trusted brand ingredients across foodservice segments. Be sure to visit our Insights page for ideas, inspiration and information to help you navigate today's shifting business landscape. For custom menu solutions or answers to your culinary questions, just reach out below.
1 Longo, Don, "Reduced In-Store Dining Will Backfire on Fast-Feeders," Convenience Store News, May 15, 2023
2 Kelso, Alicia, "Why some c-stores are bullish on their restaurant programs," Nation's Restaurant News, May 2, 2023
3 TravelCenters of America, Fork & Compass Restaurant
4 Odesser-Torphey, Marilyn, "Becoming a foodservice destination," CStoreDecisions, Marilyn, April 28, 2023