Posted in Trends on March 30, 2021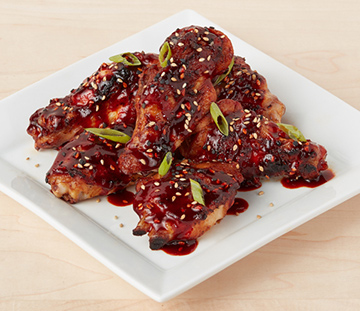 Looking for flavorful culinary concepts to add international flair to your menu mix? Go east for a feast of ideas and inspiration.
From Thai-style rolled ice cream bulging with a medley of add-ins to Hong Kong's bubble waffles curled into a cone and packed with ice cream and toppings, Asian street food is hitting the sweet spot with American consumers.
But Asian-inspired delights aren't limited to desserts and sweet snacks. Savory, spicy and tangy Asian ingredients and flavor profiles are increasingly popular in the U.S. as well. Take Chick-N-Bap, a Korean-inspired street food concept that combines savory Korean flavors with halal chicken and rice bowls ("bap" means "cooked rice" in Korean).
Chick-N-Bap Takes Flight on College Campuses
Sung Kim originated the concept in a pop-up restaurant he ran out of his house when he was a student at Binghamton University, State University of New York. As a SUNY Binghamton graduate, he landed a contract with the university to operate a Chick-N-Bap on campus and expanded to four other college campuses.
His concept takes the chicken and yellow rice staple of New York City's halal street vendors and infuses it with Korean flavors. Chick-N-Bap menus six sauce varieties (including a spicy garlic mayo), plant-based protein options and Korean-style tofu. Customers also have the option of ordering chicken thighs marinated with Korean barbecue sauce and served with white rice.
When college campuses closed down last March due to COVID-19, Chick-N-Bap had to cease operations until the fall. "We used this downtime to improve operations, innovate the menu and add more value for customers," Kim told Restaurant Business.1
Now Chick-N-Bap even offers a double-fried Korean chicken sandwich. Served with or without a homemade Korean sauce that fuses sweet and spicy, the Friday-only special comes on a toasted brioche bun with pickled daikon radish.
Shake Shack Shakes Things Up with Korean-Style Items
In a move that underscores the growing influence of Asian-inspired concepts, in January fast casual juggernaut Shake Shack introduced a Korean-style fried chicken menu that includes a gochujang-slathered chicken sandwich served with a white kimchi slaw, plus nuggets and fries that come with gochujang dipping sauce.

The sandwich launched stateside was an offshoot of a version with promising sales at Shake Shack locations in South Korea, and the kimchi was sourced from the Korean-owned Choi's Kimchi Co. The launch marked the first time the chain migrated a menu item from a foreign market into the U.S.2

Shake Shack's Korean-style chicken menu ruffled some feathers for its loose interpretation of a Korean staple, however. "We call it 'Korean-style' because it's our take on a traditional Korean fried chicken sandwich and is a slight variation to the one served in our South Korea Shacks," said Mark Rosati, Shake Shack's culinary director. He stressed the importance of Korean fried chicken serving as an inspiration for the chain's variation. "It's such a broad category," he said.2 "For us, it's important to say, this is a variation of it. This is something that we draw inspiration from. This is not definitive Korean fried chicken."2

Mondelēz International Foodservice offers a wide variety of internationally inspired culinary creations, including Sticky Chicken Wings. Mondelēz Executive Chef Patty Mitchell says the "new spin on chicken wings" combines "sweet, savory and spicy with trendy Asian flavors."3
Interested in Asian-style concepts or other international inspirations? Let us know below. Reach out to learn how our culinary experts and trusted brand ingredients can boost sales for your foodservice operation.
1 Cobe, Patricia, "A Korean-Inspired Street Food Concept Has Plans to Franchise on College Campuses," Restaurant Business, Feb. 12, 2021
2 Adams, Erika, "Shake Shack Responds to Criticism Over 'Korean-Style' Fried Chicken Menu Debut," Eater, Jan. 11, 2021
3 Mitchell, Patty, "More Than Just Desserts!" Mondelēz International Foodservice