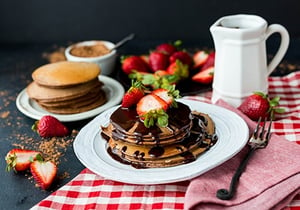 Breakfast and morning snacks are on a roll, serving up the sunny side of the foodservice business. In fact, according to the research firm NPD Group, it's the only daypart that's growing.1 With a one percent rise in restaurant traffic for the year ended February 18, breakfast seems to be hatching fresh opportunities at a time when lunch has been flat and dinner down a percentage point.1
If a one-percent rise in traffic seems like a slim slice of success, consider that breakfast is expanding rapidly beyond the morning daypart. Thirty-percent of consumers surveyed are purchasing breakfast items during later dayparts more often than they did two years earlier, according Technomic, a foodservice research and planning firm.2
What's more, 31% consider breakfast more of a destination.2 And brunch is getting a bunch of attention, with 40% eating it at least once a week, pointing the way to more opportunities for growth.2
Consider how high sales for avocado toast have popped up. A prime example of the kind of breakfast-inspired innovation finding favor among adventure-hungry millennials, avocado toast is so popular that Americans spend a minimum of $900,000 per month on it.3 As the tech company Square has reported, this is a dramatic increase from the $17,000 in avocado toast sales in 2014.3
Part of the success of avocado toast may be attributed to its better-for-you halo. As John Dillon, chief marketing officer of the Denny's family-dining chain said, "More and more guests are looking for healthier options at breakfast—especially during weekdays."1
Breakfast Foodservice Trends Crack Opportunities Wide Open
As impressive as the success of avocado toast may be, it's not projected to be the top breakfast foodservice trend for 2018, according to Statista, a statistics portal for market data, research and studies. Sixty-three percent of the professional chefs surveyed by Statista expect ethnic-inspired breakfast items like Asian flavored syrups, chorizo scrambled eggs and coconut milk pancakes to be hot trends in 2018, followed by avocado toast (43%), traditional ethnic breakfasts (39%), overnight oats (36%) and breakfast hash (29%).4
Sweet-flavored breakfast fare also holds promise. The Cronut craze underscores the appeal of breakfast-item mashups with sweet flavor profiles. As we reported in Rise and Dine: Breakfast Wakes Up Dessert Possibilities, part of a series of 2018 dessert trend articles, 43% of millennials and 29% of older consumers surveyed are interested in dessert waffles.5 In addition, chocolate chip flavor is on the rise in breakfast entrées6 and sweet breakfast entrées in general are growing by 36%.7
No wonder, then, if restaurant and other foodservice operations strive to serve up limited-time offers that capitalize on the dual drivers of breakfast sales—growing demand for better-for-you options and a persistent insistence on gratifying flavor.
Add convenience to the mix and you just may have a recipe for success during the breakfast daypart and beyond. Foodservice operators could take a bigger bite of breakfast business by catering to time-crunched customers, as Kelly Weikel, director of consumer insights at Technomic, points out.
"Speedy service and craveable grab-and-go options can help operators and suppliers engrain themselves into consumers' morning routines," explains Weikel.2 "Time also remains a key deterrent to breakfast occasions, so operators will need to push the envelope in terms of convenience. Order-ahead and delivery capabilities are likely to appeal to those who constantly feel short on time in the mornings."2
Reach out anytime to learn how we can help you sort through the scramble to maximize breakfast traffic. Combining convenience, nutrition and flavor can help boost business during the morning daypart and throughout the day. What do you think? Hash out a few thoughts below.
1 Thorn, Bret, "Breakfast growth spurs menu innovation," Nation's Restaurant News, Apr. 17, 2018
2 Technomic, Consumers increasingly skipping breakfast, Nov. 22, 2017
3 Vargas, Chanel, "Forget Buying a House: Americans Apparently Spend $900,000 a Month on Avocado Toast," Elle, July 21, 2017
4 Statista, Leading trends in breakfast/brunch items on restaurant menus in the United States in 2018, Jan. 2018
5 Technomic, Dessert Consumer Trend Report, 2017, p. 93
6 Technomic, Flavor Consumer Trend Report, 2017, p. 44
7 Technomic, Flavor Consumer Trend Report, 2017, p. 45