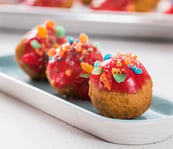 The future looks sweet for the global confectionery sector, and foodservice operators stand poised to unwrap a world of opportunities.
Valued at $156.4 billion in 2016, the international confectionery market is projected to sustain a compound annual growth rate (CAGR) of 4.6% through 2021, according to the data analytics company GlobalData.1
While Western Europe looms largest in terms of market share (29.6%), growth is expected to be especially strong in Asia-Pacific and Eastern Europe, where the CAGR is forecasted to be 7.2% and 5.4%, respectively, during the same time period.1
Innovation in the sector is helping to feed growth. Innova Market Insights, a market research firm for the foodservice industry, found that global confectionery product launches with a "discovery" claim increased an average of 15% five consecutive years.2
New products in an ever-increasing array of flavors, formats and features (unusual colors, popping candy, hot and spicy options, cooling effects, interactive, personalized packaging) are taking consumers on confectionary discovery adventures.2
"Consumer curiosity to discover something new and different is leading to more unusual and often bolder flavors and blends, surprise textures and a greater focus on visual appeal in the sweets and snacks arena," reported Innova Market Insights.2
Fresh spins and bold twists on confectionery favorites seem primed to satisfy operators' hankering for higher sales. This year, SWEDISH FISH and SOUR PATCH KIDS, two classic candies from Mondelēz International, will feature new flavor combinations with 2 flavors in one piece.
Confectionary Snack Trends Point Way to Higher Check Average
What's more, 2014-18 saw a 17% average annual growth rate globally for the number of confectionery and snack launches, capitalizing on such key trends as bite-size formats and on-the-go options.2 Snack launches with a "bite-size" claim showed large-size growth (20%) from 2017 to 2018.2

Launches of chocolate products described as "bites" showed particularly high growth (50%) over the past five years, and thins grew 48% over the same period.3
With such an ascending arc of innovation and sales, it's no wonder that confections continue to hit a sweet spot in the U.S. market as well. Market research firm Packaged Facts predicted that over 80% of adult consumers in the U.S. would consume chocolate and other candies, with spending on chocolate confections alone passing the $23 billion mark.4
Market research firm Mintel sees ample opportunity for chocolate to raise the bar. "While purchasers are creatures of habit when choosing chocolate, they are also open to new flavors and varieties and willing to pay more for premium quality," explains John Owen, senior food and drink analyst for Mintel. "There are also opportunities for chocolate products promising functional health benefits."5
In addition to premium quality and better-for-you ingredients, consumers seem increasingly interested in eco-conscious transparency and sustainability when it comes to their food consumption, including confections. Mondelēz International's Cocoa Life program promotes sustainability and social responsibility in cocoa production in key cocoa-growing regions throughout the world.
Let our chefs help you elevate your menu with culinary creations that leverage the latest confectionery trends. Check out our recipe for Matcha Mochi Donuts Made with SOUR PATCH Candy Pieces and contact us below for confectionery-inspired recipes customized for your business.