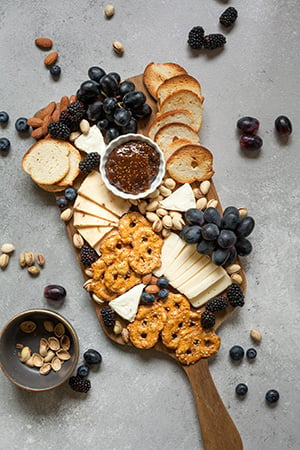 Snacking just isn't what it used to be. In fact, it has morphed from tide-me-over, between-meal tidbits to titan of the foodservice industry, disrupting the traditional three square meals a day model with quicker and more-convenient options.1
Now an $89 billion grocery category that continues to nibble away at market share with a 3% growth rate, snacking accounts for nearly 20% of all foodservice occasions.2 Snack purchases at quick service restaurants surpass all other away-from-home categories, with 81% of consumers surveyed having bought a snack at a QSR.2
With consumers snacking four to five times a day, it's no wonder, as Forbes magazine reported, "snacking in the quick-service restaurant (QSR) space has become its very own daypart within the past few years, and plenty of chains are leveraging this trend."2

Ever since Taco Bell introduced its "Fourth Meal" menu in 2005, other chains have followed suit with a variety of snack offerings that defy daypart categorization.2 Now off-hours account for more than 40% of consumer visits at Taco Bell, Starbucks, McDonald's and Dunkin'.2
Menu Innovation for a Time-Starved Market
As consumers short on time eat smaller portions in greater quantities and snacking becomes a convenient form of meal replacement, on-the-go snacks grab the foodservice spotlight once reserved for larger sit-down meals.
As Dave Donnan, a partner with the global strategy and management consulting firm A.T. Kearney, told the online purveyor of food industry news and analysis Food Dive: "All the trends around grab and go, eating on the go, takeout food, meal kits, Uber Eats, all those trends are pointing toward more of these eating in smaller portions in various times of the day. Snacks are no longer a between meal occurrence."1
Kelly Weikel, director of consumer insights for the foodservice research and advisory firm Technomic, anticipates that more-filling, hunger-satisfying snacks will grow in popularity. "As busy consumers continue to seek convenience and increasingly replace meals with snacks," she said, "look for grab-and-go boxes and heartier snacks such as wings and crab bites to fill the hunger gap."2
Restaurant Snacking Trends Boost Off-Peak Business
The Italian-American fast casual chain Fazoli's has introduced a line of snacks that has driven traffic and a higher check average during off-peak hours.1 The snacks recast the brand's signature breadsticks into a variety of sliders: Italian breadstick sliders, smashed meatball breadstick sliders, spicy Italian breadstick sliders and pepperoni pizza breadstick sliders.
Chick-fil-A is pilot testing Chick-n-Sliders in Charlotte, North Carolina, and Albuquerque, New Mexico. And Sonic bolsters its signature beverage menu with a mix of snack offerings like its soft pretzel twist.
Dunkin' sales soared in the third quarter, thanks in part to the launch of its "Dunkin' Run" platform, which featured new $2 snacks like its Donut Fries to help boost afternoon business. Compared to the same quarter last year, profit perked up 61% to $66.1 million—up from $41.2 million—and revenues rose 6%, from $330.1 million to $350 million.3
At Mondelēz International, we offer a full portfolio of iconic snack brands and unsurpassed culinary creativity to help your establishment menu the most compelling snack selections. Reach out below to learn more, and feel free to share some food for thought regarding the rise of snacks on menus today.