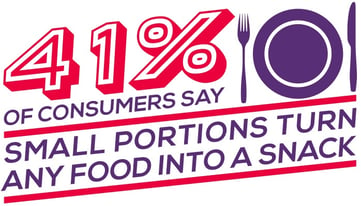 Size matters, at least when it comes to pushing snack purchases. Consumers agree that anything can be a snack, as long as it's a small portion size.1 It's true. Miniaturizing your menu can maximize your opportunity to entice the 94% of adults who snack at least once a day.2
Plus, smaller-sized options allow for lower price points, which can help attract price-conscious consumers. Be sure to merchandise with key phrases such as "fun sized," "mini" and "snack-and-go" to make sure your patrons know where to find your munchable options.
So go ahead, shrink regular sandwiches into sliders. Satisfy the sweet tooth with extra-small shakes. Switch out slices of baked goods in favor of bites. Really, any way you downsize your portions can help increase your appeal.
1 Technomic, Snacking Occasions Consumer Trend Report, 2016
2 Mintel, Snacking Motivations and Attitudes—US, Apr. 2015