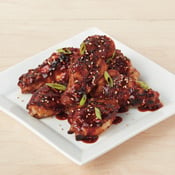 In a millennial dining market hungry for taste adventures, sauces are go-to sources of culinary inspiration and new flavor profiles—and foodservice operations are pouring them on.
No surprise, then, that seasoning, sauce and condiment production in the U.S. rose by 1.0% over the last five years to reach revenue of $22 billion in 2019, according to the industry research and analysis firm IBISWorld.
1
In addition, the number of businesses in the segment has grown by 2.6% and the number of employees by 3.6%.
1
IBISWorld data shows that the growing popularity of ethnic cuisines and flavors is helping to drive demand for imported varieties, resulting in an increase in competition.1
On a global scale, increasing product innovation and differentiation are expected to drive a compound annual growth rate of 4.9% for the market, which is projected to reach $38.8 billion by 2023, reports the financial news outlet MarketWatch.2
Pouring It On: Sauces Spur Menu Innovation
While ketchup remains America's most popular condiment (79% of consumers surveyed by market research firm Datassential favor it3), operators are exploring sauce innovations to accommodate the millennial and Gen Z taste for bold and international flavor experiences.
Sixty-eight percent of operators surveyed said they were more inclined to purchase sauces with innovative flavors.4 Upwards of 40% expressed interest in imported sauces, and more than two-thirds are intrigued by regional sauce brands.4
Spicy flavors are on fire, with 40% of operators purchasing more Sriracha, followed by Buffalo sauce (36%), hot sauce (32%), cheese sauce (29%) and salsa (29%).5 Trendy condiment varieties are so popular, 58% of operators consider them worth a price premium.6
Restaurant Operations Go from Staples to Signatures
Signature sauces are also making a splash. Forty-two percent of consumers surveyed look forward to particular signature sauces at restaurants, and 91% of those would like to buy those sauces at retail.7
The staples of ketchup, mustard and mayo still squeeze out the majority of market share, but signature sauces are a defining part of the dining experience at the restaurants of choice for more than 40% of consumers surveyed.4 Think Chick-Fil-A's signature yellow sauce and Outback Steakhouse's bloom sauce.
Many signature sauces, including Taco Bell taco sauces and Olive Garden's Italian dressing, have proven so popular the chains make them available at grocery stores across the country.
First served as a limited-time item to promote the 1998 Disney film "Mulan," McDonald's Szechuan sauce was reintroduced to market in response to popular demand when it was featured on the sci-fi cartoon TV series "Rick and Morty."4 On eBay, single packages of the sauce sold for as high as thousands of dollars.4
Another key factor to keep in mind when considering sauces: Brand matters. "Both consumers and operators often have strong brand preferences," reports Datassential, "and it's one of the few foodservice ingredients where the brand may be immediately evident to the consumer, either on the table or in a branded packet."8
At Mondelēz International Foodservice, our secret sauce is a unique blend of brand equity and culinary ingenuity that can help today's restaurant operations make the most of the latest foodservice trends. Check out our recipe for Sticky Chicken Wings Made with SOUR PATCH KIDS Variegate for a taste of what we offer, or reach out below for information on customized menu solutions for your establishment.
1 IBISWorld, Seasoning, Sauce and Condiment Production Industry in the US, Feb. 2019
2 MarketWatch, Sauces, Condiments and Dressing Market 2019-Worldwide Industry Forecast with Trends, Size, Statistics, Competition Strategies, Application, Region and Analysis, Apr. 9, 2019
3 Datassential, FoodBytes: Special Sauce (Feb. 2019), p. 2
4 Oksanen, Gerald, Ketchup with the latest condiment trends, SmartBrief, Feb. 20, 2019
5 Datassential, p. 4
6 Datassential, p. 9
7 Datassential, p. 6
8 Datassential, p. 3