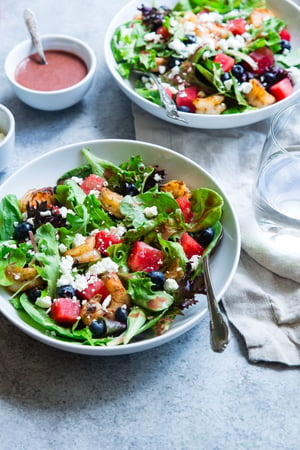 The better-for-you foodservice movement may seem ready-made for the salad business. But it looks like salad is generating less green at the cash registers than you might expect, according to the market research firm Technomic.
Salad sales aren't as crisp as they could be, due in part to the staple's downward trend on menus as the popularity of more novel better-for-you options like roasted cauliflower dishes and poke bowls continues to rise.
1
That said, salad retains its reputation as a better-for-you food and its association with wellness-oriented eating. More than half of Technomic's survey sampling feel meals are better for you when they include salad.1 Technomic's findings give foodservice operators food for thought when it comes to dressing up their salad offerings.
Salad Demand Strong Despite Choppy Sales
Anne Mills, Technomic's senior manager of consumer insights, reports that while salad has long been a go-to option for wellness-conscious consumers, the growth of better-for-you alternatives has eaten into its market share. Menu innovation is a must to serve up higher sales. "As more healthy foods become available and health definitions shift," she explains, "brands will need to find new ways to differentiate … perhaps with ethnic varieties that offer a balance of health and flavor."1
Technomic cites the Modern Greek Crunch Salad from the wellness-oriented fast casual chain Just Salad as an example of "remixing classic salads."2 A mix of romaine, pita chips, chickpeas, grape tomatoes, cucumbers and pickled red onions, it's a better-for-you flavor adventure with an international flair.
Other key findings show salad's staying power and sales potential. More than a quarter of consumers surveyed say they purchase salad most times they visit a restaurant; 34% say they sometimes do.2 Thirty-nine percent favor certain restaurants because of the salad they offer.2 Among the top salads are Caesar (63%), garden/tossed (60%), chef (58%) and taco (49%).2
Salad Concepts Have Foodservice Operations Seeing Green
What's more, despite salad's falloff on menus elsewhere, salad chains are showing steady growth. Just Salad, which has 38 locations spread across New York, New Jersey, Florida and Dubai, has announced plans to open five North Carolina locations by 2020.3 The chain is partnering with food delivery service GrubHub to a launch a new virtual, delivery-only restaurant, Health Tribes, which will feature salad dishes for keto, vegan, gluten-free and paleo diets.4
The 100-unit chain Saladworks has seen success with carryout and delivery, which now accounts for 60% to 70% of its business—figures that applied to eat-in just five years ago.5 Saladworks is also expanding into nontraditional locations, such as the JP MorganChase office building in Columbus, Ohio, and two Philadelphia grocery stores.5
Sweetgreen, a growing brand riding high on the better-for-you wave of restaurant concepts, features a variety of innovative salads with ethnic flavors, including Spicy Thai Salad and Hummus Tahina. The chain recently announced "a $150 million financing round, co-led by Lone Pine Capital and D1 Capital Partners with participation from existing investors, valuing the company at $1.6 billion."6
The chefs at Mondelēz International Foodservice are ready to develop salad dishes like our Shaved Fennel and Arugula Salad with Goat Cheese and RITZ Crackers to help drive purchases at your foodservice operation. Contact us below to learn to how we can help bring salad days of higher sales to your business.
1 Technomic, Soup and salad struggle despite growing health concerns, Feb. 1, 2018
2 Technomic, Soup & Salad Consumer Trend Report Infographic, 2018. Downloadable here

3 QSR, Just Salad to Open Five North Carolina Locations by 2020, July 16, 2016
4 Cision PR Newswire, Just Salad Partners with Grubhub to Launch Virtual Health Tribes™ Restaurant, Oct.10, 2019
5 Glazer, Fern, "Restaurants sidestep delivery fees with enhanced carryout programs," Nation's Restaurant News, Aug. 8, 2019
6 BusinessWire, sweetgreen Raises $150 Million in Financing to Futher Its Mission of Making an Impact on the Future of Food, Sept. 23, 2019