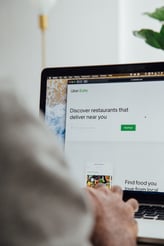 Restaurant sales figures for Q1 served up a mere morsel of success, whetting operators' appetites for more as industry same-store sales inched up 1.9%—a 0.5% increase over the fourth quarter of last year.1
With sales growth slowing to a crawl, it's no wonder traffic dropped off 0.2% in Q1 for the twelfth consecutive quarter of negative traffic.
1
Nation's Restaurant News
attributes the meager sales growth to a year-over-year 4.3% higher check average, which has been driven in part by increases in alcohol, appetizers and delivery.
1
Menu price increases meant to alleviate labor costs have also contributed to the higher check average trend.
1

While overall restaurant sales were nearly stuck in neutral, the quick service segment seemed to pick up speed, with a 2.4% increase over last year's fourth quarter.1 And yet Nation's Restaurant News was quick to point out that QSR traffic was actually –2.1 for the quarter, and two-year stacked traffic fell back –4.4%—among the most disappointing showings in the last five years.1
Even casual dining sales, which enjoyed five consecutive quarters of positive results, shrank 0.7% in Q1, while traffic dropped 3.6% for the quarter and posted a two-year decline of 5.0%.1
Profitable Restaurant Operations Do Delivery and Digital
In contrast to Q1 sluggishness, the National Restaurant Association (NRA) projects that restaurant sales will reach $863 billion by the end of 2019. The NRA's survey results show that operators consider their businesses on an upswing compared to two years prior.2 Three out of four operators rated business conditions "excellent" or "good."2
The NRA sees embracing off-premises business and the development of takeout and delivery capabilities as the key to driving growth. "Although on-premises traffic still represents the majority of business in the table-service segment, the growing demand among consumers will make off-premises options important drivers across the industry in 2019," the NRA stated in its annual State of the Restaurant Industry Report.2 "Successful operators will focus on the daypart that works best for their segment."2
In addition, foodservice operations will need to feed the millennial dining market's need for ever-greater speed and convenience with deeper integration of digital technology. "Operators across all restaurant segments will focus on building their business among millennials and younger consumers in the years ahead," explained Hudson Riehle, NRA senior vice president, research and knowledge group. "To attract these digital natives, we can expect the majority of operators to get creative in offering personalized incentives, deals, loyalty programs and rewards through various digital channels."2
Chipotle spiced up Q1, rising above the slump that left a bad taste in the industry's mouth by doubling digital sales.3 Overall, the fast casual chain increased same-store sales by nearly 10% on the strength of delivery, the addition of lifestyle bowls to the menu and the rollout of a new loyalty reward program that has picked up 3 million members.3 Revenue for the quarter shot up 13.9% to $1.3 billion.3
"This is the fifth consecutive quarter of accelerating comps," said Chipotle CEO Brian Niccol, "which reinforces our view that when we connect with guests through culturally relevant marketing focused on Chipotle's great taste and real ingredients, and provide more convenient access with less friction, they respond enthusiastically."3
Tap our culinary expertise to help your foodservice operation meet the demands of the millennial dining market with a combination of menu innovation and digital integration. Contact us to explore customized solutions to help overcome your business challenges and take advantage of new opportunities.
1 Miller, Larry, "MillerPulse: Restaurant sales up in Q1, no thanks to traffic,"Nation's Restaurant News, Apr. 23, 2019
2 Taylor, Rachel, "Restaurant Sales on Pace for $863 Billion in 2019," FSR Magazine, Apr. 2019
3 Luna, Nancy, "Chipotle same-store sales up nearly 10% as digital sales soar," Nation's Restaurant News, Apr. 24, 2019