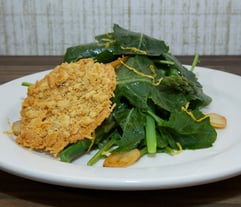 Plant-based foodservice alternatives continue to flourish in the fertile ground of rising demand for sustainable, wellness-oriented menu options. Survey results from the market research firm Datassential show that the plant-based phenomenon is growing.
With 22% of consumers surveyed embracing a flexitarian diet that leans toward plant consumption, it looks like the plant-based foodservice trend has taken root in the market.1
The success of plant-based burgers underscores the trend's potential to make sales bloom. Given that demand for vegan burgers has increased nearly 30% over a four-year period,1 plant-based alternatives seem likely to break more ground. After Burger King's trial run of the Impossible Whopper increased traffic by 18% at select St.Louis locations, the burger behemoth rolled it out nationally.1
Meanwhile, McDonald's started to nibble on plant-based market share with its expanded test of the Beyond Burger P.L.T. (Plant, Lettuce, Tomato) at a growing list of locations in Ontario. Other chains joined the fray, including Del Taco (meatless tacos), QDOBA (Impossible tacos and bowls), Little Caesar's (Impossible sausage pizza), Subway (meatless meatball) and KFC (Beyond fried chicken).2
Demand has grown so great, it seems to exceed capacity, as both Impossible Foods and Beyond Meat (the two key plant-based food manufacturers) are hindered by the need to scale up production.2 Impossible Foods CEO Pat Brown told Reuters: "I wish we had vastly more capacity than we do right now because the demand is high."2
Seeds of Trouble for the Plant-Based Foodservice Trend
While much has been made of plant-based manufacturing's potential to reduce carbon emissions, companies like Impossible Foods and Beyond Meat may need to scale up exponentially to have a meaningful impact. At only 2 percent of packaged meat sales,2 plant-based alternatives will have to mushroom to have a significant environmental impact.
Another key consideration: Just how much better for you are mass-produced plant-based foods? Critics have taken them to task for being overly processed, high in calories and low in nutritional value. Plant-based mass production also runs counter to the local sourcing and farm-to-table foodservice trends that have become popular in a market that increasingly views wellness holistically—good for the consumer, the community and the planet.
For all its challenges, the plant-based movement feeds on a steady diet of buzz and momentum. The investment management and banking services firm Cowen dubbed plant-based protein "the greatest disrupter of the restaurant industry in 2019."3 Pricing power and repeat customer interest keep Cowen bullish on plant-based foods.3 Cowen's data show that a higher price point for plant-based products is palatable even among lower income customers—a core demographic for quick service restaurants.3

"For those who have tried Impossible Burger or Beyond Meat only once, 56% indicated a desire to try again, but have not had the opportunity," Cowen reported. "This bodes well for a larger total addressable market as awareness and availability of plant-based proteins grow, prices contract and new varieties are introduced."3
Let the chefs of Mondelēz International Foodservice elevate your menu with dishes designed to capitalize on the consumer appetite of plant-based concepts. Browse our Culinary Center for menu enhancements such as our Kale Salad with RITZ Crackers Parmesan Crisp. Reach out below to learn how your foodservice operation can leverage our culinary expertise to take advantage of all the latest foodservice trends.
1 Stine, Lauren, Impossible Whopper trial drove 18% traffic growth at Burger King, Restaurant Dive, Oct. 17, 2019
2 Piper, Kelsey, Why McDonald's has been slow to adopt meatless meat, Vox, Jan. 9, 2020
3 Garcia, Tonya, Beyond Meat might not be the only plant-based burger McDonald's uses if it launches in the U.S., MarketWatch, Dec. 11, 2019