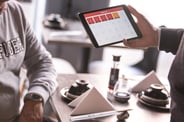 Optimize or agonize. In a fiercely competitive landscape, where margins are tight and consumer expectations high, today's foodservice operators seem locked in a state of perpetual hunger for innovative ways to make the best, most efficient use of resources.
As a result, "optimization," often through the integration with tech advances, is revving up as the revenue engine ready to turbocharge sales while lowering costs. With operators cooking up solutions for everything from delivery to menu boards, the buzz builds as we teeter on the brink of tech-transformed foodservice.
Take McDonald's acquisition of the personalization software company Dynamic Yield. Rumored to be for $300 million,1 the deal seems to signal the dawn of a new era of data-driven optimization of the customer experience. Smarter data for better sales and bigger profits is the Holy Grail for foodservice operators these days, and the fast food juggernaut just may have found it.
With Dynamic Yield's Amazon.com-like personalization software (add one thing to your cart, get matched with another), McDonald's will be able to upsell menu items and suggest pairings based on purchase patterns. Better data, rather than bigger advertising budgets, could be the special sauce to boost business and help the iconic quick service chain avoid getting in the pickle of stalled sales.
It's Business—and Personal: Menu Innovation Gets Personalized
According to the global IT analytics and consulting firm Gartner, companies that fully embraced online personalization could expect a 30% sales edge over the competition.1 What's more, Gartner cited Dynamic Yield as the market leader.1
With 68 million customers daily,1 McDonald's stands to increase sales exponentially with its integration of Dynamic Yield's software throughout its digital channels, including websites, mobile apps, in-store kiosks and drive-thru windows. A tech-optimized customer experience may appeal in particular to millennial and Gen Z consumers who have grown to expect digital speed and convenience in nearly aspect of their lives, from shopping to dating.
An optimized menu board on its own can help yield significant returns. Survey results show that menu boards influence 56% of customers, and 74% consider an easy-to-read menu board their top priority.2 Digital cues provided by customer data can help tailor menu board offerings according to season, weather, daypart or day of the week.
In emphasizing the growing importance of predictive analytics, a recent article in Total Food Service, an online source of industry news and information, speculated that advanced modeling may have spurred Starbucks' decision to raise the average price of their "venti" (large) beverages by 1% for two years running.3
"Perhaps they modeled the impact of a price increase against a whole host of data points including the impact on customer loyalty market by market," the article conjectures.3 "And as a premium brand with premium prices, they may have been willing to let some cost-sensitive customers go to a competitor while maintaining or even increasing revenue."3
Optimizing Delivery for a Higher Check Average
As off-premises consumption of foodservice items continues to grow, optimizing menus for delivery and takeout increasingly gains traction, with more emphasis placed on dishes that travel well and ways to retain freshness and flavor.
New York–based Dig Inn, which offers build-your-own bowls made with seasonal ingredients, has a test program called Room Service that uses a separate kitchen and dedicated menu for delivery orders. Scott Landers, the chain's director of off-site, told Nation's Restaurant News, a publication covering the restaurant industry, that the approach is designed to ensure food quality, order accuracy and time of delivery.4 The same food item may be prepared in "a slightly different way if we have found reason to believe that that difference in technique will materially benefit the off-site experience," Landers explained.4
Looking for actionable ideas and smart solutions to optimize your menu? Drop us a line below or use our Contact Us page now.