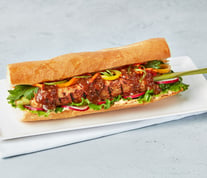 Today's foodservice market seems to demand an all-you-can-eat menu of culinary ideas and inspirations. Want more market share and an expanding customer base? Insight into the growing consumer appetite for menu diversification and an understanding of market expectations for culinary options may be key ingredients in your recipe for success.
The future belongs to flavor, and chefs and operators seem on a perpetual quest to develop flavor profiles that will resonate in a market hungry for menu enhancements. To meet consumer demand, operators are increasingly serving up unique and new flavors, including seasonal menus or monthly specials, according to the market research firm Technomic.1

Survey data underscore the hunger for flavor-driven menu innovation. Sixty-six percent of consumers surveyed express interest in trying new flavors from time to time.1 Sixty-nine percent define a new unique flavor as one they have yet to try, while 41% consider it a unique twist on a familiar profile.1
What's prime time for experimenting with new flavor profiles? Dinnertime was the top choice, with 61% of survey participants stating they are very likely to try new flavors during that daypart.1
Trending Flavors for a Higher Check Average
Innova Market Insights, a market data and intelligence company focused on the food and beverage industry, reported similar findings on the importance of flavor innovation and dubbed new discoveries the top flavor trend of 2019.2 Two out of three consumers surveyed by Innova said they love to discover new flavors.2
Innova found that consumers are hungry for bolder, more sensational flavor combinations and cited the popularity of particularly unlikely mashups, from sushi pizza and spicy tuna roll corn dogs, to pasta bacon tacos and ramen burgers.2
Among the flavor combinations that Innova found representative of the idea of flavor excitement is a chocolate bar/potato chip hybrid made of 70% dark chocolate.2 And 72% of consumers surveyed think ready-to-eat lobster with "secret" seasonings is an exciting concept.2
Established flavors continue to expand into upscale and upgraded options. Think how traditional coffee flavor in food and beverage products has morphed into added-value varieties, like cold-brew caramel latte.2
International flavors continue to make inroads into the U.S. market. "We see about a 14% increase in South East Asian flavors, and a little bit higher for East Asian and Mediterranean," said Lu Ann Williams, Innova's director of insights and innovation. "But Middle Eastern flavors are growing super-fast. Hummus dips, for example, have become super popular."2
Launches of products with complex umami flavor profiles are on the rise as a result of growing demand for international flavors.2 Other earthy flavors growing in popularity include matcha, seaweed and mushroom.2
What's more, as millennial consumers advance further into young adulthood and raise families, better-for-you food alternatives that maintain strong flavor appeal may extend onto children's menus. Case in point: Burger King's Impossible Whopper. The success of the plant-based burger—"one of the most successful product launches in brand history," Burger King reported—has inspired the chain to add Impossible Whopper options to its kids' meals.3
At Mondelēz International Foodservice, our chefs have deep expertise in developing unique flavor profiles that help elevate menus and drive sales. Be sure to browse our Culinary Center for inventive dishes like our Lemon Grass Chicken Satay with Peanut Butter Sauce and NUTTER BUTTER Variegate. Request more information below to get the full flavor of the customized menu options we can create for your foodservice operation.
1 Technomic, 2019 US Flavor Consumer Trend Report Infographic. Downloadable here
2 Danley, Sam, "Innova Market Insights names top flavor trends for 2019," Food Business News, July 11, 2019
3 Sparks, Hannah, "Burger King Is adding Impossible Whoppers to its kids meal," The New York Post, Nov. 12, 2019