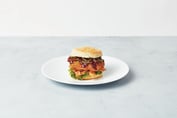 As a versatile foodservice staple, sandwiches stack up to millennial demand for variety and experimentation. Customizable and portable, they can easily be prepared according to personal preference and enjoyed away from home, on premises or on the go.
While these attributes may make them especially appealing to the millennial dining market, sandwiches have shown staying power across generational groups. According to survey data from the market research firm Technomic, 61% of consumers overall eat them once a week.1 And yet, with 60% of sandwiches prepared at home and only 40% purchased away from home, there seems to be a pile of sales potential left on the table for foodservice operators.1
Distinguishing between the differing expectations of generational groups may be the key to getting a bigger slice of the sandwich market. As Andre Mills, Technomic's senior manager of consumer insights, explained: "While older consumers really home in on value and convenience when deciding where to order sandwiches, more 18- to 34-year-olds than older consumers consider factors such as healthfulness, special-diet accommodations and the use of sustainably sourced ingredients in their purchasing decisions."
Reflecting the values of younger consumers is an important part of the mix for any recipe for success. "Even if brands are executing in terms of convenience and affordability, they still need to go the extra mile to appeal to younger consumers," Mills pointed out.
Stack the Deck for a Higher Check Average
While menus at nearly 7 in 10 restaurants offer feature some form of sandwich according to market intelligence and advisory firm Datassential,2 foodservice operators may want to pay special attention to demand among younger consumers for a balance between satisfying flavor profiles and wellness attributes.
An ample serving of culinary creativity and menu innovation seems called for to satisfy this dual hunger for flavor and function. Fifty-four percent of millennials surveyed want restaurants to offer more sandwiches with new or unique flavors.1 But responsible wellness-oriented sourcing is also important, as the popularity of plant-based proteins shows. Thirty-percent of Gen Z and millennial survey participants say they'd like more restaurants to offer sandwiches with plant-based proteins.1
As plant-based proteins eat into meat's market share, sandwiches may want to follow suit with plant-based and other protein alternatives to cold cuts. What's more, Datassential reports that a quarter of survey participants overall would pay more for better-for-you sandwich carriers, and that "health halo buzzwords like natural and whole grain are resonating with consumers."3
Popular sandwich varieties include biscuit sandwiches (99% growth over a five-year period) and grilled cheese (loved by over half of consumers surveyed).3 Datassential cites The Elmer, Denver Biscuit Co.'s pulled pork, coleslaw and fried onions sandwich as an example of biscuit-based ingenuity.3 And Panera Bread's Four Cheese Grilled Cheese Sandwich (Fontina, sharp cheddar, Monteau, and smoked Gouda on Panera's country rustic bread) underscores the versatility of the grilled cheese sandwich.
For flavorful favorites and innovative options like our Chicken and Biscuit Sandwich Made with RITZ Crackers, be sure to visit our Culinary Center. Our chefs are available to create sandwich concepts customized to meet the needs of your operation. Reach out below for details.
1 Schoeten, Rebekah, "Stepping up sandwiches to capture consumer dollars," Food Business News, Apr. 24, 2018
2 Datassential, Foodbytes: Pile on the Sandwich Insights, June 2017, p. 3
3 Datassential, Foodbytes: Pile on the Sandwich Insights, June 2017, p. 4