Posted in Trends on July 4, 2023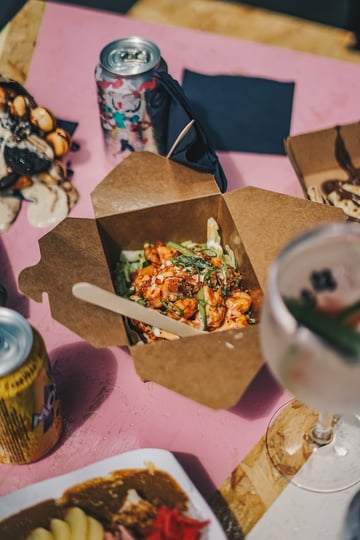 Foodservice operators are always hungry for repeat business. It's great if you can acquire customers through marketing, social buzz, online reviews and word-of-mouth. But to keep customers coming back—not just once or twice, but on a regular basis—is a surefire way to feed the bottom line.
Enter restaurant subscription programs. Meal kit subscription companies surged during the pandemic, stepping up to the plate to give homebound and stressed-out consumers a safe, simple and convenient way to enjoy delicious and creative culinary experiences without risk of infection by going out for food.
As reported in our post "Signed, Sealed, Delivered: Meal Kits Feed the Need for At-Home Family Meal Solutions," opportunities for growth in the meal kit delivery category spiked, spurred on by the need for easy-to-prepare recipes that families could enjoy without leaving their home.
While some high-profile meal delivery brands, like Blue Apron, suffered from challenging margins, the subscription model has been evolving post-pandemic to realize its potential for recurring revenue, as we explored in the post, "Platefuls of Potential: Food and Beverage Subscription Programs Evolve."
Subscription programs have become interwoven into our lives across a wide variety of industries, from streaming services to pet food to toilet paper. In fact, the average American increased the number of subscriptions they have from 4.2 in 2019 to 6.7 in 2022.1 On average, Americans pays more than $200 a month on subscription fees.1
Win-Win: Consumers and Operators Sink Their Teeth Into Subscriptions
Now, restaurants are busy cooking up subscription programs to generate frictionless repeat business. The consumer enjoys the convenience of continuous service without having to make a transaction for each purchase, and the restaurant operator has the advantage of uninterrupted revenue from the consumer.
Upscale Chinese restaurant chain P.F. Chang's Platinum plan offers free delivery, priority reservations and other perks for $9.99 per month.1 Panera's wildly successful Unlimited Sip Club charges $11.99 per month (or $119.99 per year, which includes free delivery) for all the hot and cold beverages you can drink.1 The program poured on nearly 40 million members when it launched in 2020.1 Today, it keeps the revenue flowing, accounting for up to 25% of Panera's transactions.1 Pret A Manger also perked up sales in 2020 with a coffee subscription that is now used 1.2 million times a week.1
Michelin-starred fine-dining establishment Gravitas in Washington, D.C. has a $130 per month Supper Club subscription that includes a three-course takeout meal for two and serves about 60 diners each month.1 Matt Baker, the chef at Gravitas, summed up the appeal of the program: "This is just another way for customers to provide a level of support and joy and love for our offerings."2
Dishing on Why Restaurants Step Up to the Subscription Plate
Non-subscriber guests may visit a restaurant a few times a year. But guests who subscribe commit to ongoing purchases and create a reliable revenue stream for the restaurant through automatic billing. Rewards encourage subscriber retention, which extends the revenue stream.
What's more, subscriptions are an effective way of gathering data and forming profiles that enable restaurants to meet the needs of high-value customers and tailor special offers, cross-sells and upsells to their preferences.
Given that 1 in 3 diners say a loyalty reward program would incentivize them to choose one restaurant over another, and 55% of consumers are willing to pay for a subscription to a local restaurant, it seems certain that the subscription model will continue to grow.3
At Mondelēz Foodservice, we offer a unique combination of branded ingredients and culinary ingenuity to help foodservice operators across segments achieve the optimal menu mix.

Whether you're developing a subscription program, adding signature items or just refreshing your menu, our team of acclaimed chefs can help make it happen. Visit our Brand Ambassadors page for invaluable inspiration, insights and ideas. To learn what our lineup of culinary experts can do for you, reach out below.
1 Friedman, Sara, "Restaurants are hopping on the subscription bandwagon," The Hustle, March 16, 2023
2 Durbin, Dee-Ann, "Restaurants experiment with subscription models to keep revenue flowing," PBS.org, February 21, 2023
3 Fuscaldo, Donna, "4 Restaurant Subscriptions on the Menu," AARP, March 24, 2023