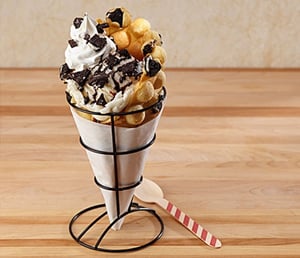 'Tis the season when foodservice operators can enjoy the gift of high sales—and it's summertime. Seasonality is a sales catalyst, and summer is no exception when it comes to seasonally inspired flavor profiles and culinary concepts. When temperatures rise, sales can rise too, provided your product mix leverages the summer's hottest foodservice trends.
According to the foodservice research firm Technomic, seasonal ingredients fuse freshness and uniqueness, and younger consumers are especially receptive to seasonal and limited-time offers.1 Technomic data traces the upward arc of the trend: 47% of millennials surveyed in 2017 agree their preferences change with the seasons, compared to 39% in 2015.1
Technomic emphasizes the excitement generated by the limited-time nature of seasonal offers as a key reason for their popularity with young consumers.1 Seasonality, limited-time offers and high quality tend to go hand in hand as a recipe for success. Technomic points out that First Watch and The Capital Grille—the two restaurant chains that are the highest rated for LTOs and seasonal offers—are also the highest rated for food quality.1
Pinning Down Ideas for a Higher Check Average on Pinterest
Social media, of course, is a barometer for the popularity of innovative food and beverage concepts, and a few trends are emerging on Pinterest boards, as shown in the platform's 2018 Summer Entertaining Report.
As we explored in "A Salute to Sales: The Buzz on Alcohol-Infused Desserts," liquor is becoming an increasingly popular ingredient. On Pinterest, as the summer party scene heats up, a touch of liquor can cause a spike in pins and saves. Wine slushies are generating a lot of buzz, with a staggering 3037% increase in saves and pins since last year.2 Big-batch cocktails are also making a splash (60% increase compared to 2017), and homemade versions of pepper cocktails have surged more than 347%.2
Boozy beverages aren't the only ones to see a bump in saves and pins. Waffle ice cream sandwiches have increased a cool 143% (feast your eyes on a few samples on Pinterest), and pins of build-your-own bruschetta bars saw a 159% boost.2
International and Local: Summer Fusions Fire Up Menu Innovation
Mike Kostyo, a trendologist for the market research and advisory firm Datassential, shared his thoughts with Nation's Restaurant News on what foodservice trends will blaze a trail this summer. Among his picks are single-focus restaurant concepts, as consumers zero in on favorite foods and seek out foodservice operations that specialize in them.3 Datassential research shows that 46% of consumers surveyed would patronize a restaurant with a focus on one thing.3
Kostyo also predicts that mashups will reach the next level with fusions of fare from dramatically different culinary cultures (think: matzo ball ramen).3 And with 44% of survey participants trying to eat less meat, plant-based options with satisfying flavor appeal seem sure to spark sales during barbecue season.3 Kostyo's advice to restaurant operators: "Make plant-based foods sexy."3
BOSS Magazine weighed in with its predictions for summer food trends, including better-for-you alternative sweeteners like honey and cinnamon, hyper-local food, and international condiments and street food.4
"Local, vegetable-forward, and ethnic-inspired menu items will reign supreme in the upcoming year," Hudson Riehle, senior vice president of research at the National Restaurant Association, told the publication. "Guests are implementing these trends in their own lifestyles and want to see them reflected on restaurant menus. In response, chefs are creating more items in-house and turning to global flavors."4
How do you plan to boost business as the temperature rises? As consumer demand for a getaway from the same-old, same-old grows, we can help ensure your product mix is primed to push sales higher, during the summertime or anytime. To elevate your menu with delicious seasonal recipes, be sure to visit our Culinary Center.
1 Technomic, Flavor Consumer Trends Report, 2017, p. 81
2 Licata, Elizabeth, These Are the Biggest Summer Entertaining Trends, According to Pinterest, The Kitchn, May 22, 2018
3 Fitzpatrick, Tara, "5 food trends that will shake up your summer," Nation's Restaurant News, May 23, 2018
4 Ovalle, Mariana Cid de Leon, "Summer Food Trends 2018," BOSS Magazine, May 2018