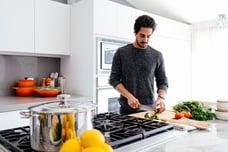 In our grab-and-go world of quick bites for busy consumers, the line between snacks and meals is easily blurred. But research data on the dinner daypart is serving up interesting insights into the staying power of the traditional meal.
The NPD Group, a market research and global data firm, reports that last year consumers in the U.S. feasted on nearly 100 billion dinner meals, most of which were eaten at home and shared with others.1 As the daily meal given the most time and consideration,1 dinners diverge from the popular perception that faster is better. Eighty percent of consumers surveyed eat dinner at home, and homemade meals from scratch are the most common kind of at-home dinner.1
That said, completely homemade meals have declined slightly over the last few years, from 34% in 2015 to 32% in 2016 to 31% in 2017.1 What's more, younger boomers (age 53 to 61) have a strong preference for dinners that take less than 10 minutes to make.1 A quarter of all at-home dinners consumed by younger boomers are under-10-minute meals, and that percentage is expected to grow about 8% over the next five years.1
Though often cited for their grab-and-go tendencies, millennials (a 75-million-consumers-strong market segment) are major partakers in at-home meals. Ninety-three percent of millennials surveyed eat dinner at home four times a week.2 According to the international food and beverage consultancy Baum + Whiteman, millennials embrace cooking and supplement their homemade meals with a wide range of prepared goods found in supermarkets.2
NPD projects that, in general, meals prepared and eaten at home will grow over the next 5 years, while meals eaten at restaurants will decline.1
As restaurants increase prices to mitigate the effect of rising labor costs and rents on already tight margins, home-prepared meals present a cost-effective alternative for consumers and put them in control of the quality of ingredients.
As NPD reported, foodservice spending seems inflated as a result of restaurant prices rising faster than the cost of home meals.3 The cost of a restaurant meal has historically been as much as three times greater than an in-home meal.3
Bringing Home the Bacon: Menu Innovation for At-Home Consumption
Other factors may be contributing to the popularity of at-home meals, including binge-watching on streaming services, the prevalence of meal kits, and the increasing availability of higher-quality, better-for-you and sustainable food selections at supermarkets. "Restaurant traffic would likely show drastic declines if not for growth in delivery options," asserted Baum + Whiteman.2
But besides the inroads delivery has made into improving margins, there's other good news. NPD found that while U.S. consumers have scaled back on dining out, they tend to rely on foodservice to supplement and support in-home meal preparation. Nearly half of dinners purchased from a restaurant are eaten at home, and in-home meals are often a mix of homemade dishes and ready-to-eat foodservice fare—a trend NPD forecasts will grow over the next five years.3
As David Portalatin, vice president, food industry advisor at The NPD Group, pointed out: "Due to a changing workforce, the ease of online shopping, and the boom in streaming entertainment, there are fewer reasons than ever to leave the house. Even with consumers eating more of their meals at home, there are opportunities for both food companies and foodservice operators. It's not a matter of where consumers are eating but rather what they're eating."3
The chefs at Mondelēz International Foodservice have the culinary ingenuity to craft menu concepts that can help drive foot traffic onsite, as well as pick up more off-premise business. Reach out below to learn how we can tailor menu innovation to encourage a higher check average at your foodservice operation.
1 NPD Group, Exploring The Future of Dinner Infographic, 2018. Downloadable here
2 Baum + Whiteman, 13 Hottest Food & Beverage Trends in Restaurant & Hotel Dining for 2019
3 NPD, U.S. Consumers Are Increasingly Eating And Preparing Their Meals At Home Often With The Help Of Foodservice , July 24, 2018