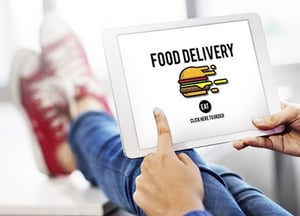 The delivery boom is driving business at a rapid pace, piling plates high with profits for restaurant operations across the country. According to the market research firm NPD Group, deliveries turbocharged a 20% increase in revenue over the last five years, and the overall number of deliveries grew by 10%.1
While much attention may be focused on millennial dining patterns pertaining to the dinner daypart, it's not just a mad dash for end-of-day meals that fuels consumer demand for delivery. NPD Group reports that deliveries of breakfast and morning snacks rose and shined 13% between 2012 and 2017, and lunch deliveries posted a 3% gain.1
And it's not just juggernauts like Panera Bread and Applebee's that are ramping up delivery. Smaller brands are also reaping big rewards from the take-it-to-them foodservice trend in a quest to stay competitive in a market where convenience is a key to success.
As NPD Group Senior Vice President Warren Solochek explained, "Convenience is among the chief reasons why consumers visit restaurants and delivery brings a heightened level of it. Restaurants need delivery in today's environment in order to gain and maintain share. It has become a consumer expectation."1
The percentage of takeout orders and deliveries for BJ's Restaurants, which has 198 locations in 28 states, "has almost doubled in the last year," according to the casual-dining chain's Chief Marketing Officer Kevin Mayer.1 To capitalize on what Mayer dubs "definitely a strong emerging market," the growing brand offers special delivery-only promotions like complimentary pizzas for the entire month of April in honor of National Deep Dish Pizza Day.1
Hub-ba Hub-ba: Why Restaurant Operations Love GrubHub
Created by the celebrated chef Wesley Wobles, hot spot and Southern-French hybrid Pinky's Space has seen delivery soar to account for 75% of its business.1 The online and mobile food ordering platform GrubHub has been the driving force behind the trendy eatery's delivery success. "When we signed up with GrubHub, that changed everything for the business,'' Wobles said.1 "Our first day online, our business tripled.''1
With a reach that allows diners to order from more than 85,000 restaurants in upwards of 1,600 U.S. cities and London,2 GrubHub has risen to become the digital autobahn of food delivery. Along the road to success, the company has picked up a prominent portfolio of related brands, including Seamless, Eat24, AllMenus and MenuPages.
In 2017 alone, GrubHub's gross food delivery sales approached $4 billion.2 No wonder, given that it processes 423,200 daily orders and serves 15.6 million active users.2 And with over 60% of GrubHub and Seamless orders made on mobile devices, the company continues to tap into the mobile foodservice trend.
According to the company's latest second quarter earnings release, revenue has surged to $240 million—a 51% increase—and active diner growth has increased 70% year-over-year to 15.6 million.3
Growth is poised to enter the next phase with the $390 million acquisition of mobile technology company LevelUp, which equips restaurants with point-of-sale platforms that feature digital payment services and customer loyalty programs.4
While other GrubHub acquisitions have given the business greater scale, "This is kind of a different acquisition. It's a product and strategic positioning acquisition," Founder and CEO Matt Maloney said.3 "We want to help restaurants actively engage with their diners," Maloney said. "This is a huge step in that direction."3
By integrating more deeply with restaurants' point-of-sale systems through LevelUp, GrubHub hopes to expand its delivery base.3
To find out how our world-renowned brands, support and resources can help drive your delivery sales higher, visit us here or reach out below for a prompt response.
1 Jones, Charisse, "Delivery boom is changing everything about the restaurant business," USA Today, Apr. 24, 2018 2 Grubhub.com, About Us, 20173 Ha, Anthony, Grubhub acquires payments and loyalty company LevelUp for $390M, Techcrunch, July 25, 2018 4 La Monica, Paul R., Grubhub is winning the food delivery wars, Money.CNN.com, July 25, 2018