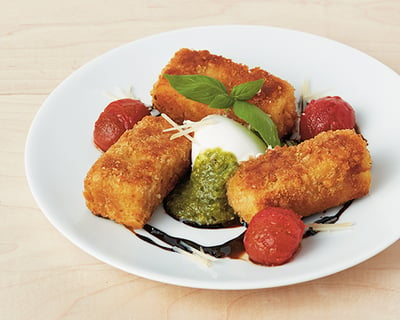 Plant-based meat replacements are growing in popularity, and investors are sinking their teeth into their market potential. With consumers hungry for better-for-you meat alternatives that address their moral concerns about animal welfare and the environmental impact of meat consumption, it's no wonder that plant-based protein has become fertile ground for capital funding.
According to the market intelligence platform provider CB Insights, the plant protein market is blossoming at $11 billion.
1
As the market's profile and profitability continue to grow, investors become increasingly eager to feed the cash cow of plant-based meat.
Ten years into taking root as a purveyor of protein substitutes for beef, pork and poultry, Beyond Meat priced its initial public offering at $25 a share, giving the company a valuation of nearly $1.5 billion.2 With net revenue that has sprouted from $16.2 million in 2016 to $87.9 million in 2018,3 Beyond Meat products are available at groceries such as Safeway and Mariano's, as well as at fast food chains including Carl's Jr. and TGI Fridays.
Meatless Mania: From Impossible to Possible to Profitable
Meanwhile, Beyond Meat competitor Impossible Foods partnered with Burger King for a winning test run of the plant-based Impossible Whopper at 59 locations in and around St. Louis, Missouri.4 The burger substitute was such a whopping success the fast food giant plans to roll it out nationwide by end of this year.4
A groundswell of consumer demand for plant-based alternatives to meat has enabled Impossible Foods to drum up another $300 million in funding—and even attract investment from major celebrities, including Jay-Z, Katy Perry, Serena Williams and Trevor Noah.4 The company, which has also made Impossible White Castle sliders possible, has raised more than $750 million overall.5
The fact that celebrity investors have jumped on the meatless bandwagon underscores the trendiness of plant-based protein and how much it has grown on consumers. David Lee, CFO of Impossible Foods, says that upwards of 90% of the company's customers are "self-avowed carnivores" who still enjoy meat, but want wellness-oriented alternatives that offer the same satisfying flavor experience.6 "Meat eaters are super interested in the delicious, craveable product they had from a cow," he pointed out, "but they're looking for ways to feel better about their health and the health of the planet."6
Millennial Menu Innovation: The Root of the Plant-Based Foodservice Trend
The Plant-Based Foods Association reports that last year saw a 20% growth in sales of plant-based food alternatives overall, as well as a 24% rise in plant-based meats in particular,5 and according to the market research firm Mintel, millennial consumers are leading the charge.
Mintel survey results show that consumption of meat alternatives in the U.S. is strong across demographics, but especially prevalent among millennials. While more than half of non-millennials eat meat alternatives, almost eight in 10 millennials partake in the trend.6 What's more, nearly one-third of millennials are gravitating to a more plant-based diet, versus one-quarter of non-millennials.6
So what is the most important motivation for eating plant-based protein? While health concerns and weight management loom large, taste is the main motivator, according to Mintel. Almost six in 10 consumers surveyed want to eat less meat, but an even greater percentage of older millennials (two-thirds) plan to cut back their meat consumption.6
Let the expert chefs at Mondelēz International help custom-create meatless menu selections to help drive a higher check average in the millennial dining market. Check out our recipe for Mediterranean Polenta Made with RITZ Crackers to get a taste of what our chefs can concept for your foodservice operation. Thoughts? Requests? Reach out below.
1 CB Insights, Food and Beverage Trends 2019, p. 5
2 Owens, Jeremy C., Beyond Meat prices IPO at $25 a share, valued at almost $1.5 billion, MarketWatch, May 1, 2019
3 Wienner-Bronner, Danielle, Serena Williams, Jay-Z and Katy Perry are investing in Impossible Foods, CNNBusiness, May 13, 2019
4 Salamone, Gina, "Burger King's plant-based Impossible Whopper headed for nationwide release after successful test run," New York Daily News, Apr. 29, 2019
5 Maze, Jonathan, "Meat-free items emerge as new fast-food battleground," Restaurant Business, Apr. 4, 2019
6 Johnson, Patty, What consumers really think about meat alternatives, Mintel Blog, Oct. 1, 2018