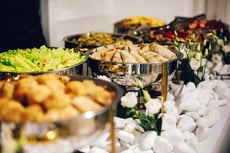 Catering is stepping up to the plate as a reliable way to feed the foodservice bottom line. The market research firm Technomic reports that in 2017 the booming U.S. catering market topped $58 billion—more than $22 billion of which was eaten up by business catering, with the balance (nearly $36 billion) attributed to social catering.1
From retail giants like Costco, Walmart and Target to major restaurant chains like Subway, Chick-fil-A and KFC, catering presents lucrative business opportunities, generating revenue that continues to rise to new heights.
In fact, catering is growing nearly 50% faster than the entire restaurant industry.2 The segment posted 6% year-over-year in 2018 compared to 3.6% overall industry growth.2 What's more, catering now accounts for 18% of sales on average for restaurants that offer it, and 90% of operators surveyed believe it to be somewhat or very important to their success.2
With traffic growth stalled for many restaurant segments (64% of operators surveyed expect it to be flat this year2), successful catering programs are becoming increasingly critical. "As brands and independent operators look for ways to increase same-store sales or generate incremental revenue, catering is definitely a conduit," said Technomic Principal Melissa Wilson.2
Profitable restaurant brands dig deep into catering
Competition to cut into the catering pie seems sure to intensify. The 28% of operators who haven't made strategic investments in this area may find themselves playing catch-up with the 91% of brands that have already seen growth and are investing in people, technology, marketing, facilities and equipment to take catering to the next level.2
Catering "can add significant revenue to a brand that embarks on doing it right," Wilson said. "It is a really solid opportunity for operators."3 But Wilson cautions that operators must gain insight into the market as consumers and businesses hunger for catering options that suit their needs and expecations.3
While catering to consumers makes up the majority of the market, business catering is expected to become particularly profitable, with greater opportunities for a higher check average. Sixty-one percent of survey respondents said their catering sales were driven by demand from businesses.2 In an environment of notoriously tight margins, foodservice operators can take comfort knowing that a single contract can generate tens of thousands of dollars in revenue with a steady stream of office orders as opposed to one-off sales for individual customers.
Foodservice operations rev up for recurring revenue
With 78% of business catering customers placing an order at least once a month (up 71% from the year prior),1 offices represent a feeding ground of profits for foodservice operators hungry for higher margins.
But whether catering for customers or businesses, the check average is by nature greater when food is ordered for large group consumption rather than a single individual or family—and repeat business makes the bottom line all the better.
Chick-fil-A's catering business is flying high with repeat customers, compelling the fast casual to ramp up consumer awareness of its availability. "Once customers try our catering, we have a high return rate, so a big focus for our 2018–2019 marketing and communications efforts will focus on getting the word out about our catering," said Chick-fil-A Consultant McKenna Carter.3
Catering is also delivering a robust ROI for Olive Garden and whetting the company's appetite for group orders. As Gene Lee, CEO of Olive Garden parent Darden Restaurants, put it: "We are still very attracted to the large-party delivery catering in Olive Garden, where our average order is $300. That makes a lot more sense for us to market and pursue than running around delivering $10 entrees at this point in time."3
Our chefs here at Mondelēz International offer a feast of expertise in custom-creating culinary concepts to maximize any catering program. For expert guidance on developing or enhancing your catering menu, reach out below.
1 Rand, Jim, Introduction to Catering: How Big Is The Opportunity? Lunch Rush, May 8, 2019
2 Littman, Julie, Catering grew 50% faster than entire restaurant industry in 2018, Restaurant Dive, May 1, 2019
3 Rush Wirth, Sara, Catering strategy is key to driving off-premises sales, Restaurant Business, Feb. 27, 2018