Posted in Trends on February 14, 2023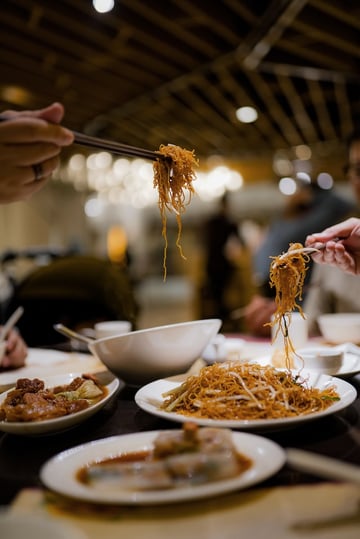 It's that time of year again, when foodservice market research brings a feast of forecasts to the table. But 2023 is unique—a year at the crossroads between a fading pandemic and fresh economic realities—some favorable, some not so much.
A mix of challenges and opportunities is sure to make 2023 interesting. The competitive landscape is in a state of flux as the pandemic recedes and economic headwinds gather. As Technomic pointed out, the long drought of dine-in options during the pandemic has created a thirst for on-site experiences, but the restaurant industry remains unalterably changed.
"As consumers continue to rebalance their restaurant habits, this on-premise renaissance will challenge operators who are short of ideal staffing levels and pinched by inflation," reported Technomic.1 "Longer term, the outlook still looks brighter for off-premise occasions, with on-premise dining projected to still fall short of reaching pre-pandemic levels."1
Technomic foresees an improving economic climate, with savvy foodservice operators seizing the opportunity to capitalize on pent-up consumer demand for experiences. Culinary innovation is expected to include high-margin grain products with an international flair, such as Jamaican coco bread, Filipino suman rice cakes and South Indian appam pancakes.1
A Flavorful Forecast: More Culinary Diversity on the Horizon
Food Management magazine also foresees culinary diversity and internationally inspired menu innovation as key experiences operators will serve up in 2023. Chef Douglas Katz, who creates Indian and Middle Eastern fare at two restaurants in Cleveland, contributed to the magazine's forecast with insights into the trend toward international influences.
As Katz explained: "Our world is getting more diverse in every way. Restaurants are a place of hospitality and our role is to create a welcoming environment for all people. We do this through providing foods that nurture us and bring us together. We are able to welcome people from all different cultures because of our familiar and not-so-familiar offerings. It provides the adventure for those that don't get to travel and experience these delicious food cultures and it gives the diverse communities and opportunity to explore new takes on foods they are familiar with."2
Among the items Katz foresees trending is the rich, nutty sauce tahini. "I'm excited about tahini in general as it hits on all the current food diets (gluten-free, nut-free, dairy-free, sugar-free) and provides a richness in our recipes," he said.
Sodexo Chef Adena Muskin of Rollins College cited the popularity of Mediterranean and his falafel board as a way to sample and share the experience. He predicted the lemony spice blend za'atar will trend in 2023.2
Research compiled by Mondelēz Foodservice in our Snack and dessert trends—a look back and a look ahead—underscores the popularity of global flavors on dessert menus. Limoncello (+21%), pandan (+16%) and ube (+10) were among the biggest gainers.3
In our report, Five Flavor & Food Trends for 2023, Pastry Chef Gemma Matsuyama predicts Asian flavors like ube and matcha will become increasingly popular in 2023. "I expect a lot more of the younger generation in North America and Europe will want to try more Asian flavors with the increased interest in anime, video games and K-pop culture," she said.
Hungry for expert ideas, innovation and inspiration to diversify your menu? Visit our Brand Ambassadors page and learn how top chefs leverage our brand ingredients to create standout culinary concepts that help drive sales. Crave custom solutions for your foodservice operations? Just reach out below.
1 Technomic, What We Foresee for 2023, 2022
2 Fitzpatrick, Tara, "14 future-forecasting food and menu trend predictions," Food Management, December 7, 2022
3 Datassential MenuTrends