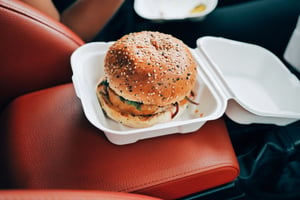 Delivery has become such a high-profile revenue engine, it may seem to overshadow carryout. But while delivery drives much of the discussion about off-premise sales (especially with so many major chains jumping on the third-party platform bandwagon), carryout may be gaining ground as an efficient way to pick up business.
Consumers have taken to takeout (defined as food ordered for either carryout or delivery) in a big way. Survey results from the market research firm Technomic show that 68% of regular takeout users order food to eat off premises a minimum of three to four times per month.1 Fifty-eight percent of all foodservice orders made by regular takeout consumers are for carryout and delivery versus dine-in.1
What's more, many consumers (especially younger ones) purchase more food when they order takeout. Forty-three percent of consumers between the ages of 18 and 34, and 23% age 35+ yield a higher check average for takeout compared to dine-in.1 And carryout as distinct from delivery is popular on its own. Overall, 30% of consumers order more food for carryout versus dining onsite.1
In fact, the NPD Group, an industry analysis and advisory company, has determined that carryout may carry the day for foodservice operators hungry for off-premise sales. As David Portalatin, NPD's vice president and foodservice industry advisor, pointed out: "By far, over the last five years, the greatest source of growth [in the industry] is digitally ordered carryout."2
Like delivery, carryout is driven by digital orders.2 Digitally placed carryout orders have come far, with a 279% increase in the last five years, compared to a distinct lack of growth of non-digital carryout and delivery.2
Portalatin summed up a roadblock that slows down delivery's growth, but which carryout bypasses: "The thing about [digital] delivery is that there is a cost, which is right now either being absorbed by smaller margins for operators, third-party delivery firms that aren't yet making money, or by the consumer in the form of delivery fees. At some point, to be sustainable, that has to go away."
While digital remains the key driver for carryout orders, having consumers pick up food at the restaurant relieves operators of the logistics of delivery (e.g., making sure items arrive promptly and at the desired temperatures) and eliminates delivery fees from third-party platforms.
Restaurant Operations Pick Up The Pace for Takeout
Even as headlines hyped delivery, carryout was happening at an accelerating rate. A study by CHD Expert, a global data and market intelligence agency for the foodservice industry, projected last year that takeout for pickup would outpace direct and third-party delivery combined ($124 billion versus $45 billion).3
To accommodate the growth of carryout, restaurant operations are experimenting with designated areas that make it easy to process and pick up takeout orders.
The nearly 100-unit2 restaurant franchise Saladworks has created rapid pickup stations as part of its "Good to Go" program. Sixty to seventy percent of Saladworks' business consists of carryout and delivery (five years ago, the same percentage range applied to eat-in).2
The nearly 40-location2 chain East Coast Wings + Grill has developed dedicated space for carryout orders in two locations. In one of them, the addition of a takeout station with its own entry door, staff and parking spaces helped boost sales by double digits.2 Digital orders jumped from 10% of takeout business to 16% this July.2
Will more East Coast Wings + Grill locations follow suit and create takeout stations? According to a spokesperson for the chain, "We are happy to see the results so far that may ultimately lead to incorporating dedicated space for carryout/delivery as the sales continue to grow."2
At Mondelēz International Foodservice, we have the culinary expertise to develop custom concepts to help fuel off-premise sales. Contact us to learn how we can tailor menu innovation to meet the growing demand for carryout.
1 Technomic, Takeout & Off-Premise Consumer Trend Report Infographic, 2018
2 Glazer, Fern, "Restaurants sidestep delivery fees with enhanced carryout programs," Nation's Restaurant News, Aug. 8, 2019
3 Kelso, Alicia, "How Restaurants Are Adapting to the Rise of Takeout," Forbes, Oct. 31, 2018