As digital technology evolves and consumers eat up the ease and convenience of the latest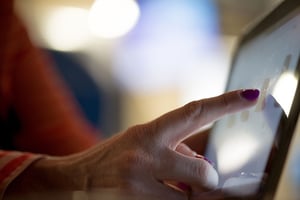 innovations, foodservice operations increasingly lean on virtual reality to lift sales.
A case in point is social media, a feeding ground for snap-happy millennials—the demographic that spends the highest percentage of their food budget on eating out.1
Restaurants can now leverage augmented reality to satisfy the millennial appetite for sharing food photos. When pointed at a digitally responsive menu or placemat, smartphones can serve up images of delicious dishes for seamless sharing on Instagram or Snapchat.
Good thing the technology for instant photo-sharing gratification exists. Nearly 70% of millennials surveyed take a photo or video of their food before eating, according to Maru/Matchbox, a real-time customer intelligence and market data company.2
With 3.5 million food images posted daily, 300 million Snapchat users and 800 million Instagram users,1 such innovations can extend market reach exponentially. (Speaking of Instagram, the third-most-popular category of hashtags for the photo-focused social platform is food related, and the basic #food is the top descriptor.1)
Foodservice Gets in Sync with Augmented Reality-Enabled Apps
As if social platform–enhancing technology weren't enough, apps like Google Lens and Apple's ARkit can project 3-D virtual meals on restaurant tables, giving presentation and ambience an interesting new twist.
While buzz keeps building on social media where millennials dish about photo-worthy food, digital ordering and delivery are taking center stage. According to investment bank Piper Jaffray, today's 1.9 billion orders will double as a quarter of all U.S. restaurant sales shift to digital over the next five years.1
U.K. ramen chain Wagamama was one of the first restaurants to introduce an augmented reality app that allows customers to interact with placemats while waiting for their food.1 Expect more restaurants to leverage artificial intelligence–enabled menus that allow consumers to get exclusive discounts, limited-time offers and new menu items on their phones.
Automation Helps Accelerate a Higher Check Average
Dubbed "New York's first virtual food hall,"3 Sous Vide Kitchen brings together a host of technological innovations that take the speed and convenience of automation to a new level. Using the trending sous vide method of cooking to maximize consistency and flavor, the digitally driven concept offers a wide array of cuisine in the spirit of a conventional food hall. But instead of having to line up at individual stalls to purchase different cuisines one at a time, customers enjoy the ease of cashless ordering from all-in-one self-service kiosks where they can choose from the full range of offerings.
This ultra-automated system streamlines the ordering process and helps control labor costs by removing the need for human interaction at checkout.
Taking the cashless self-ordering kiosk to the next level is the CaliBurger chain, whose Southern California location has two kiosks that use face-recognition technology to expedite ordering. After an initial visit, the technology creates a profile (a.k.a. "facial fingerprint") which the kiosks scan like an iPhone X to unlock.
Once their faces are recognized, customers can place a new order or reorder from past meals shown on the kiosks' screens. Customers "pay by face" with the credit card used for the initial order, or choose to use a different form of payment.
"The key to staying successful in this industry is you have to keep up with the changing tastes and trends of diners," said Alexis Kukuka, director of operations for the food and beverage consulting firm JBH Advisory Group, the major stakeholder in Sous Vide Kitchen.4
To learn how Mondelēz International Foodservice can help you leverage the latest technology to streamline operations, inspire menu innovation and garner a higher check average, reach out to us below.
1 Samit, Jay, "Virtual Food Is Coming to a Menu Near You," Fortune, May 15, 2018.
2 Amatulli, Jennifer, An Obnoxious 69 Percent of Millennials Take Photos of Food Before Eating, Huffington Post, Feb. 1, 2017.
3 Levy, Nicole, "'Virtual' food hall, city's 'first,' reimagines the cafeteria for the 21st century," AMNY, June 23, 2018.
4 Dawson, Gloria, "Virtual food halls tap into top trends," Restaurant Hospitality, June 28, 2018.