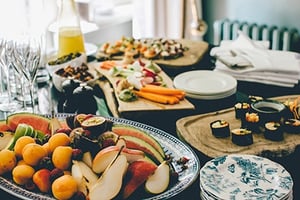 Fruit and vegetable sales may be on their way to becoming the apple of the eye of foodservice operators. As the better-for-you foodservice trend continues to feed growing demand, especially in the wellness-oriented millennial snack market, fruits and vegetables seem likely picks as treats to be consumed between or in place of meals.
In fact, research from the global information and measurement company Nielsen reveals that the snackable fruit and vegetable category is ripe with revenue, generating sales of $16.3 billion in the year ended May 27, 2017.1 In particular, snackers seem to be going bananas for on-the-go fruit and vegetable snack sub-category--a $1.1 billion market with a compound annual growth rate upwards of 10% for 2012-2016.1
To accommodate growth at retail, 900 new packaged fruit and vegetable items found their way onto grocery shelves during the same time period.1 Combinations of fruit and other items, including vegetables, nuts and dip, proved popular over those months, posting comparable numbers to mixed fruits, which garnered $117 million in retail sales.1
Branded items get the pick of produce snacking revenue, consuming 72% of dollar share.1 Among the popular Mondelēz International brands with natural fruit flavors and real fruit ingredients are belVita Breakfast Biscuits and Newtons cookies (including the classic Fig Newtons), while our 100% whole grain WHEAT THiNS and TRISCUIT cracker varieties offer a medley of natural vegetable flavors.
Seeds of Foodservice Sales: Factors Driving Global Fruit and Vegetable Market
With 32% of U.S. homes purchasing on-the-go produce snacks an average of 3.1 times per year, and younger generations and multicultural households buying them at an even higher rate, the fruit and vegetable snack market presents a feast of foodservice opportunities. Vegetables nibble at on-the-go snacking dollars, accounting for only 17% while fruit consumes 44%—up 17% from May 2016.1 That said, Nielsen attributes the disparity largely to shelves featuring four times more fruit than vegetable snacks.1
Modor Intelligence projects that the combination of busy lifestyles and an insistence on better-for-you fare will drive a compound annual growth rate of 4.5% for the fruit and vegetable ingredients market through 2022.2 Given escalating global demand, the market research and advisory firm expects strong growth despite high volatility and variation in the prices of fruit and vegetable ingredients from region to region.2
Though Europe has claimed a major share of the market, Asia-Pacific produces upwards of half of global fruits and vegetables, making it a high-growth region for sales of snacks with fruit and vegetable ingredients.2
Millennial Snack Trends and More: Consumer Demand Bears Fruit
While millennials are often credited with raising the profile of wellness-oriented options like fruit- and vegetable-based snacks in the U.S., these options are popular across demographic groups, and Gen X is helping to lead the charge. "Fruit and vegetable producers benefited from steady growth among the U.S. population, as well as from the fact that all age groups have high usage rates, especially Gen X adults," said David Sprinkle, research director for the market research firm Packaged Facts.3
Growing interest in international culinary influences are poised to help diversify demand for fruits and vegetables, which, according to Sprinkle, "are expected to continue experiencing growth in niche areas as consumers persist in seeking out novel flavors from around the world."3 He anticipates that rising disposable personal income will spur sales of premium fruit and vegetable products with such wellness claims as non-GMO, organic and locally grown.3
Find out how our real fruit and vegetable-based brands can help grow your business and elevate your menu with on-trend enhancements that combine wellness quality with delicious flavor. Any tips on boosting better-for-you business? Share the fruit of your labors below.