Posted in Cookies/Bars/Snacks on April 3, 2017
The better-for-you snack segment is a booster shot for business, surpassing the sales growth of the entire food and beverage market, according to a report from Packaged Facts, a market intelligence firm.1 A convergence of factors, including portability, higher nutritional value and clean labeling, has spurred sales over the past decade for wellness-oriented snacks, resulting in a compound growth rate (CAGR) of 4.7%,and surpassing overall food and beverage growth.1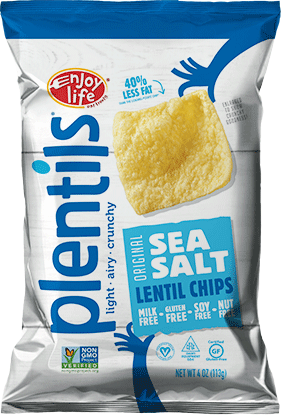 Skyrocketing sales were propelled in part by double-digit growth for two years running–in the meat snack and trail mix categories in 2014, and in the granola and snack bar market in 2015. The better-for-you boom is expected to continue, reaching a CAGR of 5.7% in the next few years and hitting $25.4 billion in sales by 2020.2
As a measure of the better-for-you movement's growing influence, the percentage of adults who believe they snack more nutritiously has risen to 30% in the past decade, with younger Americans more likely to believe their eating habits have improved compared to older adults.1
A Driving Force for a Higher Check Average
The free-from foodservice trend has emerged as a driving force of the movement, with allergen- and gluten-free claims proving to be the most popular in the segment, ahead of premiumization, new flavor experiences as well as bite-size and single-serve options.1
Retailers are investing more time and money in the development and promotion of private label snacks for the segment–everything from gourmet light popcorn, sprouted tortilla chips and yogurt bars to fruit and nut bars, energy bars and fruit snacks.1 As better-for-you snacking expands its mainstream profile and demand continues to rise, expect retailers to give natural and more-nutritious options greater prominence, including easy access through the use of displays and signage.
Popular demand compels foodservice operators to follow suit by making allergen-free options easier to locate and using them as a catalyst for menu innovation.
The Hot Trend That's Nothing to Sneeze At
Given the fact that "free from" tops the segment in consumer interest, it's no wonder that gluten-free and allergen-free brands are proliferating. Identified as a 2016 "hot trend" by the market research firm Innova Marketing, free-from is poised for even greater popularity as food intolerances continue to drive demand for ingredient transparency and worry-free alternatives.3 Americans increasingly want to know how their food is made, where it's sourced from, and what ingredients it contains, and look to free-from options as a form of allergy prevention.
As a result, protecting people from the U.S.Top Eight major food allergens — milk, eggs, fish, crustaceans, tree nuts, peanuts, wheat and soybeans — has been a growing segment among many food companies this past decade, leading food facilities to make allergen control a top priority when processing produicts.3
Chicago-based Enjoy Life Foods, a market-leading snack brand in the free-from segment and an independently owned subsidary of Mondelēz International, has a dedicated "allergen-friendly" production facility that avoids Canada's 12 priority food allergens.3 These allergens include the U.S. Top Eight, as well as sulfites, crustaceans, sesame and mustard.3 The facility is also free of celery and lupin, both on the office EU allergens list.3
While the lion's share of the free-from market is gluten-free, companies are investing dedicated production areas for as many free-from ingredients as they can.3 Yet while allergy prevention is critical, satisfying flavor paired with transparency is equally important, especially for millennials. As Jill Litwin, founder of a company specializing in kids' foods, explained, "we find gluten-free to be the biggest allergen issue with our consumers. But products also need to taste good, and millennial moms want to know their kids are eating good food.Transparent, recognizable ingredients are important to millennial moms."3
Has your foodservice operation enjoyed success with any millennial snack options that combine delicious flavor with allergen-free appeal? How have better-for-you and free-from snacking trends benefited your business?