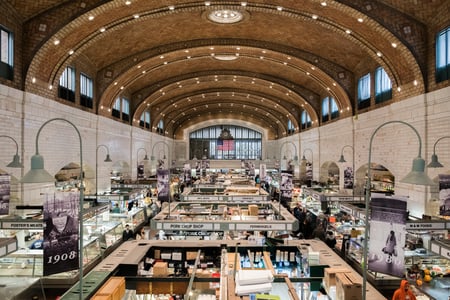 Hungry to explore new and interesting flavor experiences, today's consumers can't seem to get their fill of food halls, which are rapidly replacing food courts as the rage for high-traffic foodservice sales.
Once prized for their ease and convenience, food courts have seen foot traffic thin out as consumer demand for higher-quality and more-wholesome fare grows. As retail sales slump and the fresher-is-better foodservice trend continues to gain momentum with wellness-conscious millennials, the once-mighty meccas of fast food are morphing into sprawling emporiums of premium mini-restaurants and specialty retail food vendors.1
Food halls tend to reflect millennials' appetite for responsible sourcing, wholesome nutrition and global flavor profiles. Bye-bye cheap, quick indulgence; hello fresh ingredients, eclectic recipes and inviting environments. While price sensitivity seems here to stay, reasonable pricing makes food halls as appealing to consumers' wallets as to their palates.
A European Foodservice Tradition Digs into the U.S. Market
Popular in Europe for years, food halls remain somewhat of a novelty in the States, where food courts have dominated high-traffic foodservice since the 1980s.1 Whereas food courts may have become a blur of fast food chains, food halls seem poised for sustained growth. They signal the triumph of diversity over uniformity in the industry, drawing crowds with a smorgasbord of artisan restaurants, butcher shops and boutique foodservice operations. With over 100 locations across the country, food halls grew by 37% last year, and their numbers are expected to double by 2019.2
Food halls are a big deal—literally, with properties ranging from 5,000 square feet to more than 40,000 square feet.3 DeKalb Market Hall in Brooklyn, New York, houses 40 vendors in 36,000 square feet, and expects hours to extend past midnight with the opening of a 7,500-square-foot entertainment venue.3
Food halls are also whetting the appetites of developers as a business-boosting project asset that attracts both customers and tenants. Christopher Conlon, chief operating officer for the developer of the massive City Point project where DeKalb Market is an anchor, said: "DeKalb Market Hall has already had a tremendous impact on tenant traffic in the upper levels. But we also have space on the ground floor still to lease, and the interest driven by the excitement surrounding the food hall has been just as tremendous."3
Variety seems to be the recipe for vitality, as the reputation of food halls as the place to be for foodies becomes more high profile. As David LaPierre, vice chairman of global retail services team of commercial real estate services firm CBRE, put it: "Food halls are a place where there's life and there's buzz. It's a real social environment where people want to be."3
Courting Change: From Food Courts to Eataly
Food court fixtures struggle as the market shifts to the more immersive food hall experience. Sbarro, Cinnabon, Jamba Juice and Panda Express are among those experiencing softening sales.4 In 2015, Jamba Juice reoriented itself with the closing of 22 stores in New York and Chicago and the departure of the company's CEO. As part of its push to modernize, Sbarro, which sought bankruptcy protection the year prior,4 has opened a sleek stand-alone location in the Bronx, New York.
The declining fortunes of such mall mainstays stands in stark contrast to the rise of Eataly, the breakthrough pioneer of the food hall market in the United States. Eataly debuted in the U.S. in 2010, when it turned 58,000 square feet in New York City into the model of the modern food hall, generating $70 million in its first year5 and shattering sales projections of $85 million in its second year.1 Now with 30 locations across the globe,5 Eataly continues to thrive as a one-stop destination for Italy's finest food.
Find out how our global portfolio of trusted brands can add food hall-worthy variety to your product assortment. Drop us a line below, and be sure to share a few juicy tidbits of your impressions of the food hall phenomenon.
1 Alois, Emma, "Sayonara, Food Courts. Hello, Food Halls!" Lavu, Jul. 14, 2017
2 Filloon, Whitney, "13 Food Halls That Prove This Trend's Not Dead Yet," Eater, Aug. 30, 2017
3 Gose, Joe, "The Food Court Matures Into the Food Hall," The New York Times, Sept. 12, 2017
4 Taylor, Kate, "Death of the Food Court," Business Insider, Mar. 9, 2017
5 Filloon, Whitney, "How Did Eataly Become a Global Italian Food Superpower?" Eater, Aug. 12, 2016