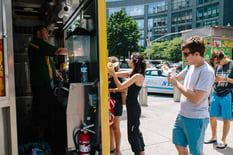 As if increasingly tight margins weren't hard enough to swallow, now new players on the already crowded foodservice field are competing for share of stomach.
According to the market research firm Technomic, consumers may be just warming up to these emerging channels, but the heat is on for foodservice operators to step up their game to maintain their footprint.
The shifting landscape presents today's restaurant operations with a full plate of challenges and opportunities. From food halls and food trucks to eatertainment and meal kits, foodservice venues, varieties and experiences abound.
As Bret Yonke, Technomic's manager of consumer insights, explained: "Restaurant operators will have to pick and choose how to compete as variety and uniqueness are currently competitive advantages for emerging channels. Moving forward, watch for restaurants to turn the tables by utilizing certain emerging channels to expand their own brands, which some have already done by offering meal kits and creating their own branded food trucks."1
Will Restaurant Operations Eat Loss of Market Share?
Technomic research data bears out the rise of these alternatives to traditional foodservice. Food halls seem to be driving traffic as a source of novelty and variety, with new dishes that whet the market's appetite for culinary experimentation. Seventy-eight percent agree on some level that food halls present opportunities to try concepts they've never tasted.1 And nearly half cite the wide range of options as a draw that keep them coming back.2
Meal kits maintain their presence in the mix as users try a taste of different services in the category. Twenty-seven percent of users say they have switched services since they started using meal kits.2 And yet, despite a stock plunge below $1 a share,3 Blue Apron remains the top meal kit brand, with 58% of consumers buying it the most, followed by Hello Fresh (40%) and Home Chef (27%).4
Food trucks have picked up so much speed, 60% of survey participants say if their favorite opened a restaurant they would be likely to visit it.2 And eatertainment (a bowling venue with seating for food and beverages, for example) seems to be striking a balance with consumers: 54% say they visit eatertainment concepts for both the food and the entertainment.2 Daypart eatertainment traffic tilts toward dinner, with 65% saying they visit for this meal.1
While these channels are on the upswing, there are downsides that restaurant operations can use as points of differentiation to maintain share of stomach. Eleven percent of consumers surveyed prefer a more relaxed environment than a food hall; 19% don't trust food sold out of a truck;5 22% consider eatertainment establishments too noisy;6 and nearly 50% find meal kits too expensive.7 By providing a relaxed, quiet atmosphere with trustworthy food at a reasonable price point, restaurant operations can remain in a favorable competitive position.
Restaurant Delivery Channel Shifts Lanes
The marketplace has become so hyper-competitive, even Amazon, with its vast reach and resources, is not assured of success. Take, for example, Amazon Restaurants, the online delivery service that seemed poised to eat into the market share of brands like GrubHub and Uber Eats, yet wound up being shut down. With investors pouring hundreds of millions of dollars into app-driven delivery services (DoorDash has accumulated $1 billion and Postmates is gearing up for an initial public offering8), Amazon's service seemed stuck in neutral.
But as James Cakmak, a former internet stock analyst who tracks food delivery companies, pointed out: "It can monitor the situation and potentially buy up one of these entities, or make a strategic investment, or wait till the dust settles and go at it on its own."8 For Amazon, if you can't beat 'em, buy 'em—or just bide your time.
For a deeper dive into emerging channels and their impact on the foodservice industry, check out our white paper, The New Foodservice Norm. Drop us a line below to learn how we can help cook up solutions to your operation's share-of-stomach challenges.
1 Technomic, Restaurants brace for increased competition as emerging channels continue to expand, Technomic finds in new report, Apr. 24, 2019
2 Technomic, Emerging Channel Consumer Trend Report, Apr. 24, 2019, p. 21
3 English, Carleton, "Blue Apron becomes a penny stock after plunging below $1," New York Post, Dec. 18, 2018
4 Technomic, Emerging Channels Consumer Trend Report, p. 163

5 Technomic, Emerging Channels Consumer Trend Report, p. 83

6 Technomic, Emerging Channels Consumer Trend Report, p. 115

7 Technomic, Emerging Channels Consumer Trend Report, p. 144
8 Yaffe-Bellany, David, "Amazon to End Its Restaurant Delivery Service," The New York Times, June 11, 2019