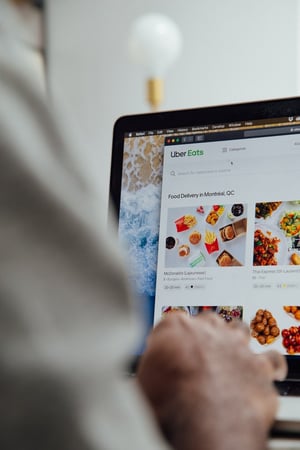 Delivery may be growing at a dizzying pace, but the speedway of intersecting challenges and opportunities can cause confusion among foodservice operations weighing which way to turn. In-house delivery fleet or third-party service? A mix of both? Does the expanded market reach of third-party platforms deliver enough ROI when balanced against service fees?
While business needs and objectives may vary from operation to operation and brand to brand, delivery continues to accelerate the rate of innovation in a quest to make the margins as favorable as possible. Trim the fat and feast on more profit is one goal every restaurant operation can share.
No surprise, then, that top chains that seemed slow to jump on the delivery bandwagon are making inroads with innovative approaches and sharp turns to maximize ROI.
As reported in a previous post, Panera has decided the best way to drive sales while mitigating costs is to make its menu available on DoorDash, GrubHub and Uber Eats and rely on its own in-house fleet to deliver the food.
Domino's Takes Another Slice of the Delivery Pie
Now Domino's delivers an efficiency innovation through a partnership with Rad Power Bikes, which will equip the pizza chain's drivers with a motorized e-bike delivery option that they can use instead of a traditional bike or car. Tested out in Houston, Miami and New York, the program will roll out to hundreds of corporate-owned stores in Miami, Salt Lake City, Baltimore and Houston later this year.1 The electrically powered bikes will also be available for purchase by franchisees nationwide.1
Designed for congested urban areas with fewer delivery drivers, the e-bikes can run 25–40 miles and reach a top speed of 20 miles per hour.1 Each e-bike can hold up to 12 large pizzas and carry cold drinks, sides and sipping sauces in its cargo areas.1
Tom Curtis, Domino's executive vice president of corporations, summed up the advantage of the e-bike delivery option: "Domino's tested e-bikes in a number of corporate-owned stores earlier this year, and those stores saw improvements in overall delivery and service. They also experienced labor benefits, as the stores were able to hire from a wider pool of candidates, including those who might not have a car or driver's license."1
Applebee's Partnership with DoorDash Makes Opportunity Knock
While the delivery foodservice trend ramped up with ever-accelerating speed, Applebee's took it slow before settling on a special agreement with DoorDash for national delivery. The casual dining chain harbored reservations about the sustainability of delivery over the long haul, but it gave franchisees the flexibility to choose which third-party services they'd like to use.2
Now, according to Scott Gladstone, Applebee's vice president of strategy, off-premises and development, the DoorDash partnership provides "a model where our franchisees don't have to choose between a dine-in guest, a to-go guest and a delivery guest because of those costs associated with those guests."2
To offset some of the costs of delivery and make delivery more profitable for the franchisees, a service fee is charged to the guest.2 As Steve Joyce, CEO of Dine Brands, Applebee's parent company, explained: "The guest is willing to pay a lot for that level of convenience, and the relative percentage of the [delivery] cost versus the meal doesn't seem to matter as much as you'd normally think."2
What's more, the partnership allows Applebee's to retain customer data and gives guests the option to order off of the Applebee website or app, while DoorDash assumes responsibility for picking up and delivering the meals.2 The partnership is in effect at 1,300 of the chain's approximately 1,700 locations nationwide.2
Learn how the experts at Mondelēz International Foodservice can help you map out menu concepts to help drive delivery sales and navigate margins. Simply use our Contact Us page or leave a message below.
1 Fantozzi, Joanna, "Domino's dials up delivery efficiency with national e-bike program," Nation's Restaurant News, Aug. 13, 2019
2 Dawson, Gloria, "DoorDash wins Applebee's delivery nationwide," Nation's Restaurant News, Aug. 14, 2019