Posted in Noncommercial on July 14, 2020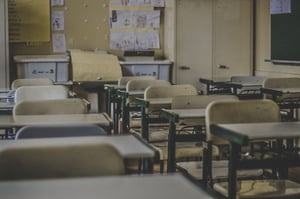 Commercial foodservice wasn't alone in having to shutter on-site dining services and shift to off-premises meal solutions in the wake of the coronavirus outbreak. Noncommercial sectors such as K–12 foodservice also got a crash course in how to cope with a seismic disruption to their systems.
As school districts across the county closed and distance learning became the norm for families forced to shelter at home, school foodservice operations adapted to serve the countless children who rely on them. For many of these children, school food programs are their sole source of balanced nutrition. As a result, K–12 foodservice is a bulwark against hunger and health problems related to poor nutrition.
The good news: As of this writing, an estimated 95% of school meal programs have continued to serve those in need over the last few months, according to the School Nutrition Association's new report, "Impact of COVID-19 on School Nutrition Programs—Part 2."1
Survey results from school foodservice professionals in 1,894 school districts nationwide underscore the success of emergency meal assistance during the pandemic. In April alone, these districts served more than 134 million meals.1
Nearly 100% of respondents have been offering lunch, and 94% have been supplying breakfast.1 Like their commercial counterparts, many school foodservice operations rely on curbside pickup (81%) and delivery (42%) as their primary food distribution methods.1
Sixty-five percent of districts have been providing entrees and side dishes to be heated at home; 36% have been offering hot meals. In keeping with another commercial foodservice trend, 22% include locally sourced ingredients in their meals.1
Full Plate: Navigating Financial Challenges
School foodservice operations have managed to feed the need for nutritious even meals as budgets grow increasingly lean, with combined financial losses for 861 districts estimated at more than $626.4 million.1 But mounting financial losses could make it difficult to provide student meals next year.
SNA President Gay Anderson, SNS, summed up the success and financial setbacks: "As schools closed their doors, school nutrition professionals quickly transitioned from cafeteria service to curbside pickup, and have continued serving on the frontlines to ensure hungry students have access to healthy meals during COVID-19 closures. Despite these tireless efforts, school meal programs nationwide are experiencing crippling financial losses … Congress must act to ensure school meal programs are equipped to nourish students this fall."
To help support emergency feeding operations across America, SNA's sister organization, the School Nutrition Foundation, has awarded its initial round of COVID-19 grants to four school districts and two schools. The $1,500 grants "help meet urgent needs for temperature-controlled transport carts, portable refrigerator units, cooler bags and packaging materials for grab 'n' go meals," according to SN: School Nutrition magazine.2
As school districts struggle with the logistics of reopening in the fall, tightening budgets become a major concern—especially in areas such as kitchen equipment. The need for new or upgraded equipment is likely to loom large as school cafeterias implement necessary changes in the ways they prepare and serve food. Be sure to visit the SNA's website for information on applying for equipment grants.
When it comes to finding the right menu mix for noncommercial and commercial operations in the age of coronavirus, Mondelēz International Foodservice is a trusted source of culinary ingenuity and brand excellence. Contact us below to learn how we can help your operation thrive in a rapidly changing foodservice landscape.
1 SNA Survey Reveals COVID-19 School Meal Trends, Financial Impacts, School Nutrition Association, May 18, 2020
2 "SNF Awards Initial COVID-19 Grants," SN: School Nutrition, June/July 2020, p. 20