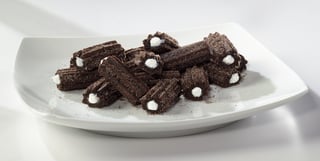 Ethnic flavors are all the rage. So why not bring some global flair to your dessert menu? Like sweet and munchable churros!
Churros are on the rise—going from the fields of Spain to theme parks to gourmet restaurants. There's such a thing as a churro dog. Seriously. Look it up. Then go find it.
But long before chefs were taking churros to the next level, Spanish shepherds ate simple churros for sustenance during weeks spent in the mountains.1 Once the townspeople got their hands on them—and rolled them in sugar—churros went from functional food to flavorful fun.1
Today, churros are growing FAST—with menu mentions up 10% in just the past two years1. And they've evolved from simple cinnamon sugar–rolled sticks to decadent dippers. Try pairing them with seasonal dips to add some specialty style or crumble them over an ice cream sundae to help you satisfy the 63% of consumers who enjoy dessert at least once a week.1
Serve for Cinco de Mayo? Sure. But what about a warm churro paired with a hot chocolate? Now that's one way to cozy up to a delicious treat during colder months.
Plus, these portable desserts are great for on-the-go applications. Create simple paper bags with your logo and add to your branding power.
So no matter how you serve it, just make sure you menu churros and don't forget to add your own signature spin.
Do you already serve churros? Tell us how!
1. "The Sweet Rise of Churros," Restaurant Business, January 6, 2016