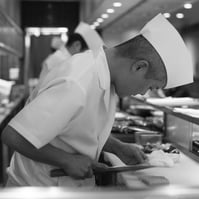 As their influence grows, chefs are not only cooking the dishes—they're calling the shots. According to the National Restaurant Association's What's Hot 2019 Culinary Forecast, chef-driven fast casual restaurant concepts rank among the year's Top Ten Trends.1 And when the report drills down to the top restaurant concepts, chef-driven fast casuals are ranked highest.2
Compiled from chefs' responses to a survey asking them to identify food and beverage trends for the coming year, the annual forecast is itself a testament to the influence of culinary masters as they extend their authority and ingenuity beyond the kitchen.
The rapid rise of the fast casual category, which strives to serve the market's seemingly insatiable appetite for foodservice quality, convenience and affordability, has made menu innovation and the culinary minds most adept at it increasingly important.
A survey by Zagat revealed that 65% of consumers are more likely to patronize gourmet or chef-driven foodservice establishments, and 78% would like local chefs to open more fast-casual restaurant operations.3
Renowned Chefs Help Accelerate Fast Casual Foodservice Trend
For chefs, fast casual dining provides opportunities to raise their profiles and take ownership of not only the menu, but the milieu. As the operation's driving force and defining personality, they can develop signature dishes in casual settings and providing food of higher quality than consumers might get the typical casual restaurant. Balancing fine dining and casual eating, they prepare made-to-order meals by at competitive prices.
Chef-driven fast casual concepts give chefs greater culinary flexibility and creative freedom that extends from back of the house to the front. As Chef Matthew Accarrino of SPQR, an Italian restaurant in San Francisco, pointed out: "A chef-driven restaurant is one with fewer boundaries conceptually, fewer inherent boundaries to creativity by design."4
As for how the trend evolved, he noted that chefs in the 1990s began applying their college educations to broader aspects of the restaurant business. "From that point, chefs became restaurateurs," he said. "The consumer also became more interested in chefs' personal style and what they bring to the cuisine in the restaurant as an indicator of their interest."4
Higher Standards for a Higher Check Average
Just like other foodservice operations across categories, chef-driven fast casuals must contend with a crowded competitive landscape and tight margins, especially given the challenge of keeping chef-prepared meals with premium ingredients at a palatable price point.
But many esteemed chefs have been busy creating upscale menus with downscale pricing. Among the success stories is Chef David Chang, who gained fame with the contemporary Asian noodle bar chain Momofuko. Chang's six-store New York City fast casual chain Fuku features an appetizing array of innovative approaches to fried chicken that reflect both American and Asian culinary influences.
Chef José Andrés, who created luxe fixed-price menus for famed fine dining establishment minibar in Washington, D.C., opened the fast casual chain Beefsteak, which specializes in flavorful veggie and grain bowls.
Franklin Becker, who appeared on the TV show "Top Chef Masters" and headed up several upscale New York City restaurants, partnered with fast-food investment firm Aurify Brands to launch Little Beet, a fast casual chain that offers a wide variety of nutritious, plant-inspired dishes.
Let the expert chefs at Mondelēz International Foodservice help you gain a competitive edge at a time culinary mastery and menu innovation have become more important than ever. Browse our Culinary Center for inspiration, or contact us today for customized menu options for your foodservice operation
1 National Restaurant Association, What's Hot 2019 Culinary Forecast, 2018, p. 3
2 National Restaurant Association, p.4

3 Jones, Katy, Food Safety and Quality in Chef-Driven Fast Casual, QSR Web, Aug. 16, 2018
4 Sukin, Gigi, Is "Chef-Driven" Driving Positive Change?, Upserve Restaurant Insider, Oct. 11, 2017