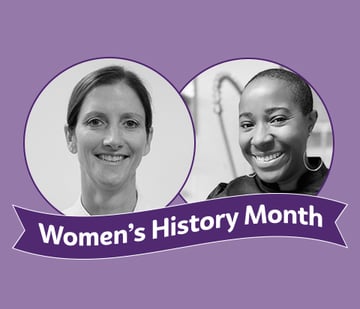 While women comprise roughly half of foodservice entry-level employees, that number substantially decreases as you move through the pipeline into leadership positions.
According to the 2021 Women in the Workplace report conducted by McKinsey in partnership with LeanIn.Org:
In the restaurant industry, 58% of entry-level employees are women, but only 29% of C-suite employees.
In the food and beverage distribution industry, 46% of entry-level employees are women but only 20% of C-suite employees.
In the food and beverage manufacturing industry, 52% entry-level employees are women but only 20% of C-suite employees.
In the consumer packaged goods industry, 54% of entry-level employees are women but only 31% of C-suite employees.
Fostering a company culture that places importance on diversity, equity and inclusion is critical for Mondelēz International, which is why we're proud that the Mondelēz International Foodservice team is powered by two highly experienced female chefs.

Chef Patty Mitchell specializes in helping Mondelez International customers and manufacturers maximize the potential of the branded ingredients, as well as providing support for internal stakeholders and category managers. Chef Patty also provides culinary support to both the OREO Cafe, located in East Rutherford, NJ, and the SOUR PATCH KIDS Cafe in New York City. Additionally, she develops recipes and concepts for the Mondelēz Foodservice Culinary Center, to inspire and help independent operators innovate.

Chef Carmisha Ramsey focuses on concept and product development, ideation and brainstorming flavor trends and bringing LTOs featuring Mondelēz International brands to life for customers with national reach.

For

Women's History Month

, we spoke with them both on why representation is important and their advice for females in the industry.
Succeeding in a Male-Dominated Industry
Having a career as a female chef in an underrepresented industry means a lot to Chef Patty and Chef Carmisha.
"It gives me great pride to work in an industry dominated by men my entire career. I felt as a woman that I had to work harder and longer if you wanted to get noticed and move up the ladder" said Chef Patty. "From Culinary school through several jobs, I was confronted with situations that I had to just 'let go' of to succeed in this industry. I'm stronger because of my resiliency to continue to pursue what I love, and as a result have had an enjoyable career. I'm proud of all of the successful women chefs in the industry today paving the way for young women. I mentor young women today as well, to provide a safe space to discuss their role — which is something I wished I had when I was younger."
"I know that this industry definitely has been, and still is, very male-dominated," said Chef Carmisha. "So it is important to take on new roles and new challenges. There are different factors that come along with a male-dominated environment. It can be very intimidating at times. It means a lot to stand your ground as a female and not be easily shaken, to really believe in yourself, and know that you have something to offer. I don't take it lightly."
Why Representation Matters
Representation is critical because there's still significant improvement needed in gender equality in the foodservice industry.
In the 2017 Women in the Workplace report by McKinsey and LeanIn.Org, the numbers for gender representation are fairly similar as to what they are today. In the Food, Beverage & Restaurants category, 49% of entry-level employees were women, but only 22% of the C-suite.
Making progress toward diversity is important now more than ever as the food industry competes for critical talent and as the pandemic has taken a higher toll on women in the workforce. Since recruiting and retaining talent remains a major challenge in the food industry, emphasizing diversity is not only the right thing to do, but also necessary to capture the best talent in the marketplace. According to a survey conducted by Deloitte in partnership with The Food Industry Association, "training employees on diversity and inclusion" is one of the actions top executives are taking to prepare for future workforce challenges.
Recognition is another way to continue expanding diversity efforts, according to Chef Carmisha.
"I think recognizing that we exist and that we are making as much of an impact is very critical to continue to expand the diversity in the industry," said Chef Carmisha. "It lets other women who are considering this industry know that there's somebody that's doing really cool things that looks like them. I don't need recognition or validation for myself, but I recognize that it matters to other people and it gives them encouragement."
A Cultural Shift
Despite the leadership diversity gap that persists in the food industry, some progress has been made at a cultural level, according to Chef Patty.
"When I went to culinary school, it was mostly men," she said. "Now, there are a lot of really hot-shot female chefs out there, I'm happy to say. There are always going to be people who think differently, but I really think it's much more equal today. Not 100%. But I don't know if it'll ever be there. I'm happy with the direction in which it's gone."
Chef Carmisha agreed. "I feel like things are improving," she said. "But the reality is that there are still areas that are just difficult. And until that individual company, or that person or whoever has that role at hand, until they grow and recognize the importance in it, there's going to be difficulties for people and in different places."
The importance of recognizing women in foodservice and providing greater support is becoming more widespread. Some recent highlights in the movement include:
RestaurantHER

, Grubhub's platform that launched in 2021 that allows consumers to find and support woman-led restaurants and that shares stories of women "blazing trails in the restaurant industry."

Vegan Women Summit

, created in 2022 by Jennifer Stojkovic as a platform to elevate, amplify, and educate women professionals in the future of food tech.

Let's Talk Womxn

, an action-led movement of 550+ women restaurateurs and entrepreneurs founded by Rohini Dey in 2020.
These organizations and more will continue to grow as the need for diversity becomes more widely recognized.
Advice for Women in the Foodservice Industry
Chef Patty and Chef Carmisha had several key pieces of advice for women in the foodservice industry.
Focus On the Work
When things get tough, Chef Carmisha recommends focusing on the work and not getting caught up in the difficulty of the moment.
"Things will be hard. Things will be unfair. Do what you can to focus on the work itself instead of giving attention and energy to the unpleasantries. Focus on the tasks at hand and work to check those off of your list. Give those things your energy. That's what allows you to learn and move forward."
Always Be Learning
Chef Patty's advice was to learn everything you can from everyone you work with in your career.
I've consistently focused on learning as much as I can from each team I've been a part of, gaining the experience that each person I've been fortunate to work with," she said. "This has helped shape my career."
Apply For the Job
Research shows that women don't apply for a job unless they think they are 100% qualified, compared with men who are more likely to apply for jobs even if they don't fit the whole description. Chef Carmisha recommends taking a chance on yourself and applying for more opportunities, even if you don't check all the boxes at that time.
"I wanted to always be open to new opportunities when they came if it meant applying for a job, even if I didn't feel like I was 100% qualified for it." she said. "I think that's one thing that we as women struggle with — applying for the job if we weren't able to check off all the boxes at that very moment, but guys do it all the time. When you get the job, you'll figure it out. You learn along the way and may even surprise yourself. So apply for the job."
Diversity & Inclusion at Mondelēz International
Mondelēz International is an advocate for diversity and inclusion and strives for a culture where all employees can show up as themselves and feel supported.
"It's awesome to see that Mondelēz is a cheerleader and an advocate for us," said Chef Carmisha. "That's not necessarily been the case with previous companies. Having a company like Mondelēz that advocates for us, it's like a unicorn. It's few and far between that you find opportunities like this."
As a part of this initiative, Mondelēz International is helping women-identifying and BIPOC individuals jumpstart their culinary careers through the James Beard Foundation Mondelēz International Scholarship Fund for Equity in Leadership. See application details here.