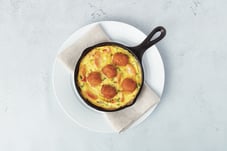 Breakfast is on roll, with sandwiches normally limited to morning menus serving up sales across dayparts,according to the market research firm Datassential. From French toast sandwich concepts to croque madame varieties, sandwiches crafted with ingredients typically associated with breakfast are making sales sizzle round the clock.
Biscuit sandwiches in particular are making bread for operators after the morning hours, with a 99% growth rate since 2012.1 Loved by 44% of consumers,2 toast also seems sure to pop up on menus as a versatile sandwich and standalone staple with all-day appeal.
But breakfast-anytime sandwiches are part of a larger foodservice trend as breakfast breaks free of its morning meal–only reputation. Packaged Facts, a market research publisher, reports that restaurants are increasingly creating menus adaptable across dayparts to accommodate the free-form dining habits of today's consumers.3
McDonald's and Chick-fil-A Turn Sales Sunny-Side Up
Packaged Facts cites McDonald's all-day breakfast menu, launched in late 2015, as a prominent example of the trend.3 Sausage and Egg McMuffin sandwiches, hash browns, pancakes and breakfast burritos are available at the chain throughout the day, as is the McCafe beverage menu, including espresso beverages and cold-brew frozen coffee.
In August of 2017,4 Chick-fil-A added its Hash Brown Scramble breakfast bowl as a menu option that customers can order at any time of the day. Made fresh each morning with tot-style hash browns, scrambled eggs, sliced chicken nuggets and a blend of Monterey jack and cheddar cheeses, the bowl is served with jalapeño salsa to wake up taste buds for breakfast and beyond.
Packaged Facts research also shows that global breakfast specialties, including Asian bao, Mexican chilaquiles and migas, Italian-style frittatas, and Middle Eastern shakshuka are cracking open the American market as any-time-of-day menu options.4
The company's Research Director David Sprinkle explains the evolution of breakfast from daypart-specific to time-agnostic menu booster. "This is an age of all-day breakfast selections that can shape-shift their way through the day, multipurposing for breakfast, lunch, post-work drinks and takeout, dinner and midnight snacks," he points out. "Breakfast food menus and retail products can appeal to all budgets, all levels of appetite, and all food preferences and dietary requirements."4
Breakfast, Brunch, Beyond: Menu Innovation Cracks Wide Open
As breakfast encroaches further into the day and mixes with menu items meant for lunch and dinner, it's as if brunch, though still a go-to source of weekend traffic for many restaurants, has become open-ended. While breakfast sandwiches feed the need of time-starved consumers for quick, satisfying food that can be enjoyed on the go, the sheer brunch-like variety available can encourage on-premises traffic.
Brunch itself continues to retain its appeal, finding fans in a new generation of consumers who gravitate toward it as a form of social engagement. The analytics firm Crimson Hexagon found that 76% of people discussing "brunch squad" on social media are less than 25 years old.5 And survey data from the research and advisory firm Mintel shows that almost 40% of consumers consider brunch a time to socialize with friends and family.5
As a result, brunch should be a social experience with on-trend flavor profiles and buzzworthy menu innovation to attract as much on-premises business as possible. Datassential research shows that while putting an egg on a pizza or a burger may be an easy way to create a breakfast or brunch option, taking the next step and making up entire egg-based dishes with customer favorites can make menus stand out.6 Datassential cites the Pizza Huevos Rancheros (a flatbread topped with traditional huevos rancheros ingredients) at Westies Gastropub in Columbus, OH as an example.6
At Mondelēz International, our chefs create innovative breakfast and brunch dishes that can help your foodservice operation cook up sales across dayparts. Our Potato Tot Frittata made with RITZ Crackers is just one of many inventive recipes available in our Culinary Center. Browse our online selection of breakfast recipes, and be sure to reach out to us below for customized menu solutions.
1 Datassential, FoodBytes: Pile On the Sandwich Insights, June 2017, p. 4

2 Datassential, p. 6

3 Prepared Foods, All Day Breakfast Inspires Culinary Food Trends, June 22, 2018

4 Schouten, Rebekah, The all-day breakfast trend continues to grow, bake.com, June 20, 2018

5 Wood, Nancy, "Breakfast and Brunch Trends," Restaurant Informer, Apr. 18, 2018

6 Datassential, FoodBytes: The Ideas Issue, Jan. 2018, p.3