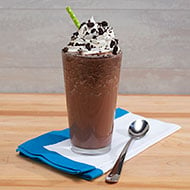 There's a lot of buzz these days about non-alcoholic drink concepts—and bold beverage innovations are buoying up sales at foodservice operations.
The market research and advisory firm Datassential reports that consumer preferences for beverages tend to mirror expectations for food, with an emphasis on better-for-you, premium and organic ingredients and customizable concepts.1 Datassential cites trending food ingredients that have also become common in beverages, including turmeric or cayenne in juice, cucumber or tamarind in soda, and avocado in milkshakes.1
Datassential postulates that given the typically lower price points of beverages in comparison to food items, consumers may be more willing to try innovative and unusual drink flavors.1 Limited-time offers of buzzworthy beverage concepts seem sure to create a stir and could result in permanent additions to the menu.
Foodservice is riding a wave of non-alcoholic beverage trends that originate at retail. As Datassential points out, kombucha and enhanced waters were making sales rise at retail before they appeared in restaurants.1 The high tide of retail-driven beverages has made coolers filled with on-trend bottled beverages a hotbed of sales for restaurants.
Seventy-five percent of operators surveyed now offer reach-in coolers stocked with a bevy of beverages; of those, 65% have customer-facing coolers.1 Sales of beverages from reach-in coolers have increased compared to the previous year, according to 43% of operators surveyed.1 A logical progression may be to follow Chick-Fil-A's lead and bottle signature drinks that help restaurants stand out in a market saturated with drink offers. The fast casual chicken chain gives customers the option to purchase its signature sweet tea in one-gallon jugs.
A Flood of Innovative Beverages Lift a Higher Check Average
Innovation, not intoxication, seems to be the main buzz-generator for beverages. Take the brimming popularity of mocktails—non-alcoholic concoctions that capture the imaginations and tantalize the taste buds of a market thirsty for new drink concepts.
Survey results from the global market research firm Mintel determined that 13% of consumers consider mocktails, which tend to be targeted to younger women, a worthy alternative to alcoholic drinks.2
Mocktails that offer satisfying flavor experiences with better-for-you ingredients may be especially appealing for wellness-conscious millennials. Forty-five percent of millennials surveyed would forego alcoholic beverages to improve their well-being,2 giving operators the opportunity to make the most of the mocktail trend. What's more, one out of 10 people would like more restaurants and eateries to have mocktails on the menu.2
Starbucks Reserve Roasteries include mocktails on its lavish menu of coffee options and alcoholic beverages. The coffee giant's Emerald City Mule mocktail combines cold brew and ginger beer with an infusion of burnt cinnamon syrup and fresh lemon, culminating in an apple spice finish. Juice juggernaut Ocean Spray has introduced its own product line of mocktails, including a cranberry-peach bellini and sangria.
Let the chefs at Mondelēz International Foodservice help you build a beverage menu to keep sales flowing. Our Frozen Hot Chocolate made with OREO Cookie Pieces is just one of many beverage recipes we bring to the table. Reach out below to learn more.
1 Datassential, FoodBytes: What's the Buzz About? Nov. 2018, p. 3
2 Meyer, Zlati, "Drinks with a twist: Non-alcoholic mocktails are creating lots of buzz," USA Today, Jan. 18, 2019