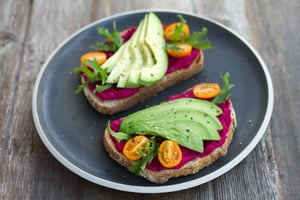 Money doesn't grow on trees, but avocados do—and they generate a lot of green. Last summer, Time magazine reported that Americans were spending a minimum of $900,000 per month on avocado toast1—a foodservice trend that seems to be the fruit of the millennial mania for better-for-you fare with a flavorful twist. Mashed green fruit on browned bread: Who would have thought? And who could have imagined its sales would soar to such heights?
What's more, the $900,000 per month figure, based on data from the tech company Square, doesn't include avocado toast sales at foodservice operations that don't use Square's credit card payment processing services.1 The actual sales figure is no doubt significantly higher, and yet it's still a stratospheric leap above than the $17,000 worth of avocado toast that Square's clients were selling each month in 2014.1
Millennial Dining Market Goes Bananas for Avocados
The avocado toast craze has borne so much fruit for foodservice, the industry research firm Technomic identified Avocado Toast Innovation as one of the "leading menu trends at chain and independent restaurants in the U.S."2
According to Technomic survey data, 31% of consumers would be likely to order avocado as a sandwich topping,3 underscoring the tasty green titan's appeal beyond its now-iconic status as a spread for toast. The fruit's popularity seems to be branching out as an inspiration for menu innovation at national restaurant chains. Technomic cites Firebirds Wood Fired Grill's Avocado Toast Salad and Chipotle Mexican Grill's Avocado Tostadas as examples.4 Firebirds Wood Fired Grill even features an avocado popsicle with its Grilled Citrus Grouper.5
The market research and advisory company Datassential reported that Tropical Smoothie Cafe's Avocolada Smoothie seemed to satisfy young consumers' thirst for an exceptional flavor experience.6 Over 72% of millennials surveyed said the concoction's pina colada-like flavor profile—a combination of avocado, pineapple, spinach, kale, coconut and lime—was unique.6
In its Future of LSR Consumer Trend Report, Technomic notes that the Oregon-based quick-service chain Next Level Burger features a signature burger with "a housemade umami mushroom and quinoa patty topped with avocado, cheddar or Swiss-style cheese and roasted garlic thyme mayo."7
Even college foodservice operations are jumping on the avocado bandwagon as they strive to accommodate demand from older Gen Zers for more nutritious options. Technomic's Gen Z Selfie cites the Avocado Vegetable Panini at Perdue University as one of the top lunch and dinner items at colleges and universities.8
Better for You and Your Bottom Line
Vitamin rich and high in fiber, with a distinctive creamy flavor, avocados seem ideally suited for the better-for-you foodservice trend that demands nutritional content that doesn't compromise taste. As Tom Vierhile, innovation insights director for the market data and analytics company GlobalData, explained: "Avocado has become one of the new 'healthy fats' that are suddenly better-for-you. It's where coconut was five years ago."9
In addition to trusted cracker brands such as Triscuit, Ritz and Saltines which pair perfectly with avocado toppings, Mondelēz International offers the culinary creativity to elevate any menu with avocado-inspired recipes. Check out our recipe for Chilled Avocado Soup with Premium Saltines. To learn more or just share your thoughts on the avocado foodservice trend, reach out below.
1 Steinmetz, Katy, "Americans Are Spending at Least $900,00 Per Month on Avocado Toast, According to Square,"
Time,
July 18, 2017
2 Technomic, On the Menu, Sept. 2018, p.5

3 Technomic, On the Menu, Sept. 2018, p. 2

4 Technomic, On the Menu, Sept. 2018, p. 19

5 Technomic, On the Menu, Sept. 2018, p. 21

6 Datassential,
FoodBytes: Millennials,
Feb. 2018, p. 4

7 Technomic, Future of LSR Consumer Trend Report, 2018, p. 31

8 Technomic, The Gen Z Selfie, June 2016, p. 5

9 Malovany, Dan, "Trends in snack innovation,"
Food Business News,
Dec. 19, 2017