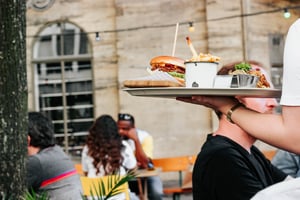 Delivery may be the revenue engine du jour, and it may even be here for the long haul, but bumps in the road show it's no one-way street to success. Instead of a shortcut to sales, delivery has proven to be a challenging segment to navigate.
Tight margins and high delivery fees seem to have slowed progress, and while off-premise numbers show consistent growth, the deep inroads delivery has made into the market are spurring a shift away from dine-in business. As a result, customer traffic has stalled, leaving in-store sales stuck in neutral, according to Kelli Valade, CEO of restaurant consultancy TDn2K.1
Third-party delivery, ghost kitchens, stay-at-home patrons and accelerating demand for digital technology that delivers ever-greater speed and convenience are among the twist and turns taking foodservice in new directions.
At Your Service: Foodservice Operations Go Old School to Renew In-Store Traffic
Given the dizzying pace of change, it may seem that there's no turning back. And yet Valade has found a reemergence of old-school hospitality as a differentiating factor for the small cohort of restaurant brands with growth in customer traffic.1 While these chains are committed to off-premise sales, they set themselves apart from the pack with superior customer service.
According to Nancy Kruse, president of the Kruse Company consulting firm, "it's easy to identify those few operators who go above and beyond in providing service. Chick-fil-A in the quick-service sector and Houston's in full-service dining spring readily to mind, and I'm wondering if they represent the leading edge of a long overdue service revolution."1
The Boka Restaurant Group, which owns and operates 23 chef-driven restaurant concepts, emphasizes "a service lifecycle that begins the moment the diner makes a reservation and ends when the valet puts the sated patron back into his or her car," explained Kruse.2
Maple Street Biscuit Company, the 33-unit breakfast/brunch chain acquired by Cracker Barrel in 2019, found a recipe for success in its signature combination of made-from-scratch cooking and good old-fashioned hospitality.
Restaurant Operations Make A Sharp Turn Toward Tech
With roughly 89% of restaurant customers researching where to eat on their smartphones,2 it's become critical for operators to ensure their restaurant or foodservice establishment appears when people search online for dining options. At a minimum, it makes sense to create a business listing on Google Business, Bing and Yahoo—and make sure the unit's address, hours, phone number and website URL are accurate.
On a more strategic level, local marketing campaigns can maximize online exposure through Google channels, including YouTube, Google search and Google Maps. Local digital ads bring in new customers by targeting people who are already looking for a local place to eat. As a Denny's manager said in a video testimonial at the 2019 MUFSO (Multi-Unit Food Service Operators) Conference, "Digital has changed our culture. It's bringing in a new crowd."2
Other traffic-building tips include outdoor seating (boosts revenue by 33% on average3), digital window signage (grabs people's attention to draw them inside) and Instagram-worthy ambiance (restaurant selfies help generate social buzz).
For menu innovation to help drive a higher check average on and off premises, explore how the chefs at Mondelēz International Foodservice can custom-create dishes for your foodservice operation. Leave a note below and we'll deliver the details.
1 Kruse, Nancy, "Calling for a 'service revolution' to bring out the stay-at-home restaurant guest," Nation's Restaurant News, Nov. 27, 2019
2 Luna, Nancy, "Google gives restaurants tips to drive incremental traffic," Nation's Restaurant News, Oct. 16, 2019
3 Buzztime Business, Walk This Way: 12 Secret Strategies to Increase Foot Traffic to Your Restaurant, July 11, 2018